I'm stunned, excited, and can barely tear myself away from watching the bidding on the CJDG Cindy Edelstein Memorial Auction…so many incredible jewelry designers have donated jewelry for an auction in Cindy Edelstein's name to benefit Jewelers for Children, and a special Women's Jewelry Association scholarship fund bearing her name.

I'm excited because this idea perfectly honors Cindy Edelstein, who passed away in January of 2016. To say that she has left a void is an understatement of epic proportions. She was a vocal, proactive champion for the jewelry design community, making an impact on newbie designers just getting their feet wet, to seasoned artists still perfecting their business and craft.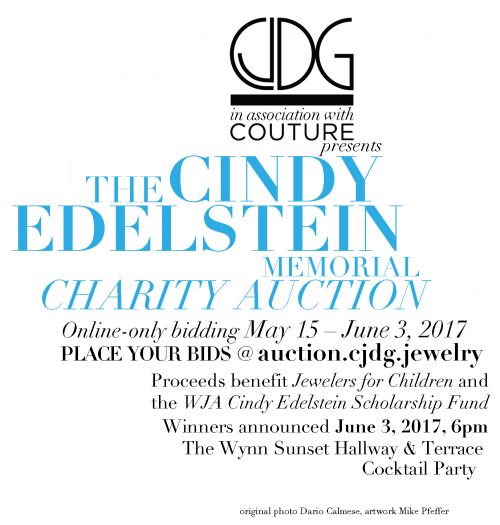 I'm stunned because the caliber of jewelry represented is truly awe-inspiring. The designers so clearly gave from their heart: their most evocative, representative designs; gorgeous gems; the pinnacle of their work. And most minimum bids are very low, which is so inclusive. I'm in awe of my jewelry friends.

Bidding is open to all, you simply register at the auction site, here. If you've had your eye on work by any of the designers represented, this would be the time to act! I haven't shown every piece in this post, you have to go see everything!

I also love that the
COUTURE Show
has collaborated with this special effort. There will be a special case dedicated to showcasing the auction items through the bidding deadline at 4pm (mountain time) Saturday, June 3rd, 2017. You can bid online up until then.
On Saturday, June 3rd at 6pm, I'll be announcing the lucky auction winning bidders with CJDG President Julie Romanenko after the COUTURE show! If you're there, come see me, congratulate the winners, celebrate the artists who made this possible…and honor Cindy.
I'm so proud of "my" CJDG jewelry community, which represents some of the most creative–and generous–artists working in jewelry.
Now excuse me, I have to go watch my bids…
What will YOU bid on??
Share Your Thoughts!