April has been a whirlwind month so far: I just got back from Los Angeles–Hollywood!–where I attended the American Gem Society Conclave, and in a few days I head to San Francisco and Sonoma for an Ethical Metalsmiths Board Retreat. Sounds rough, I know, but as a board, we will be working on some really intense direction and mission goals for the future. Given our location, there will be wine!
I'll be traveling to New York City April 26-29th for the Initiatives in Art and Culture 7th Annual Gold Conference. I attended as a speaker last year, and I'm honored that IAC has asked me back to speak again this year! As I've written in the past, I truly love this conference.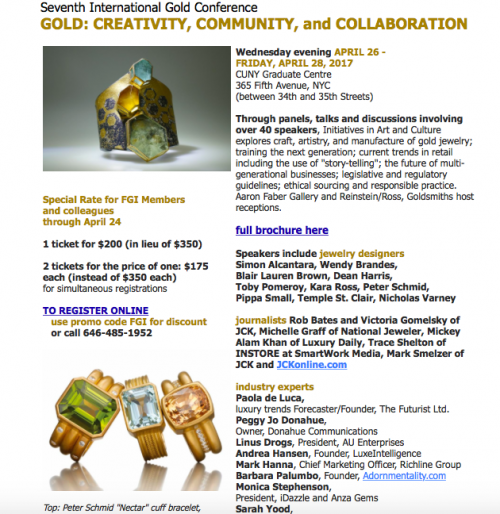 The Gold Conference has established itself as a gathering of progressive minds, tackling the subjects necessary to move forward in fashion, jewelry, design and story-telling. I admire the fact that it facilitates creative and respectful discourse–such a rare commodity these days–about sometimes controversial topics. And while the show organizers encourage attendees to network and connect on a business level, I appreciate that this conference is separate from a trade show. I have made many lasting connections from this conference in the past: some have led to pretty incredible professional and personal relationships.

This year's theme is GOLD: CREATIVITY, COMMUNITY, and COLLABORATION. "Gold is a symbol of ultimate emotional power, allure, and enduring value. This affirmation forms the foundation of this conference's inquiry, for which jewelry serves as the point of departure," from the brochure (click
IAC Gold Conference Brochure
for full brochure). Responsible sourcing of materials has become a recurring theme for this conference, turning what was once a fringe discussion into the mainstream. The conference explores gold's origins, the artists who use it as a medium, and the people who are using innovative ways to tell the story to reach consumers. The conference begins on Wednesday the 26th with a reception at
Reinstein/Ross, Goldsmiths
, followed by two days of speakers on Thursday and Friday, and ends with a screening of the film,
Sharing the Rough
on Saturday at
FIT
!
I am honored to be on a panel about separating the noise and confusion of social media and the blurring line between editorial and advertorial media.
Peggy Jo Donahue
, veteran writer and journalist, is the moderator, and I'll be alongside
Barbara Palumbo
, my good friend and writer of
Adornmentality
,
Trace Shelton
Editor-in-Chief of
INSTORE Magazine
and
Mark Smelzer
, Publisher of
JCK Magazine
. It should prove to be a lively discussion–the rise of influencers, paid followers, and "sponsored posts" has created mass confusion about what constitutes real content and FTC liabilities. My perspective comes from my experience as creator and editor of the idazzle blog (8+ years old!) and social media. **idazzle is purely editorial: I do not accept money for posts.
There are SO many interesting discussions happening at the conference, onstage and off, as lunch and breaks find many people bonding over continuing thoughts. I'm looking forward to seeing Aja Raden, Lita Asscher, Michelle Graff, Andrea Hansen, Andrea Hill, Victoria Gomelsky, Cecilia Gardner, Christina Miller, Paola De Luca, Wendy Brandes, Brandee Dallow, Melissa and Steve Quick, Orin Mazzoni, and of course, Lisa Koenigsberg, the orchestrator of it all!
You can register here: https://www.eventbrite.com/e/seventh-annual-international-gold-conference-tickets and get a nice discount by using idazzle or ANZA as the discount code. I hope to see you there!

Share Your Thoughts!