I've been following Kat Florence for a while on social media. I've been fascinated by her truly extraordinary jewelry designs and her passion for gems. When I found out about this project — an auction in Hong Kong to benefit victims of the Nepal earthquake of 2015 — I knew it was time to feature her.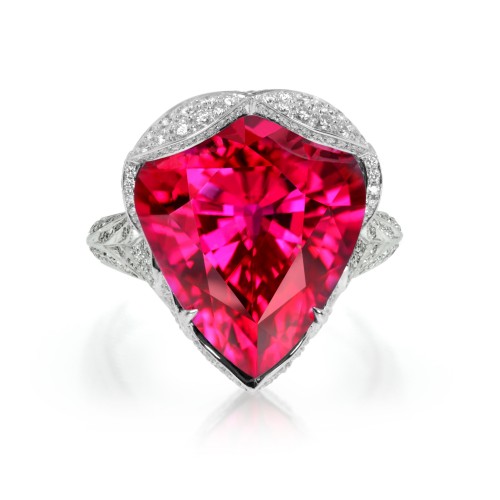 The collection to be auctioned features 38 pieces of jewelry designed by Kat, including four worn by Sarah Jessica Parker, for a total value of over $3,000,000. It's a stunning example of my favorite jewelry–jewelry with a purpose. The auction will be held at Tiancheng International in Hong Kong on 12th June. Bids can be placed via phone and online at http://www.tianchengauction.com/site/tiancheng/buy. Proceeds are going to A Drop of Life, a non-profit organization whose main initiative for 2016 is to reconstruct an elementary school for 420 children in Pokhara, Nepal following the devastating earthquakes last year. Most remarkably, the jewelry is being offered at no reserve, in an effort to net meaningful proceeds for the charity.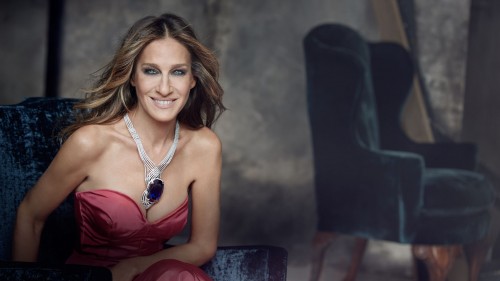 While the entire collection is impressive, there are some jewelry creations representing extremely rare or fine gemstones. A few of the notable pieces include:
· 18-carat white gold necklace with a 423.56-carat Tanzanite set at the heart of diamonds weighing more than 53 carats;
· 18-carat white gold ring with a 12 carat Rubellite nestled among 1 ct. of diamonds;
· 18-carat yellow and white gold necklace with a 105-carat Zultanite encased within 4.5 ct. of diamonds;
· A necklace with an impressive 91-carat Paraiba Tourmaline – the largest ever to appear at auction – set among more than 23 carats of diamonds.

I am intrigued by Kat's approach to gemstones. A number of talented designers work with rare gems, but the finished designs I've seen from Kat show a sensitivity to the gem that goes above and beyond: truly dimensional, carefully considered. Rather than a homogenous approach, each design is completely distinctive, a novel invention built literally around the center gem and its particular characteristics.
A few months ago Kat announced Sarah Jessica Parker as a partner, introduced with a fanfare of photos by photographer Peter Lindbergh. Ms. Parker is a fashion icon and continues to reinvent herself in what I like to call the "slash": actress/mom/performer/designer/philanthropist/producer and many other roles. She is as nuanced as many people I know in my life and I appreciate the perspective she brings to the brand.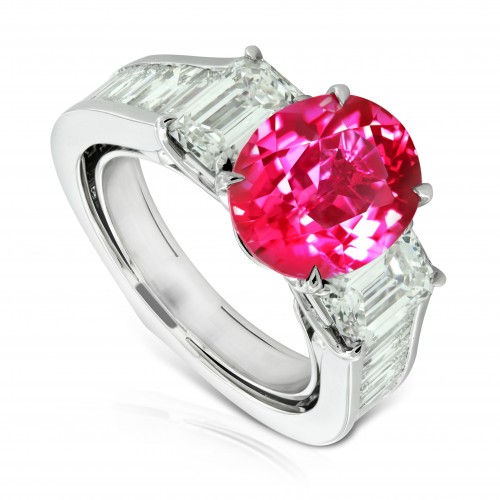 Interview with Kat Florence
I had a chance to ask Kat Florence a few questions about her jewelry and this auction event.
idazzle: Every jewelry design you create seems to completely reinvent itself around the center gem. What is your process: how do you approach each piece so singularly?
Kat Florence: I think I'm able to achieve this by being a part of the gemstone cutting process. My extraordinary gem cutting team and I sit down and consider each gemstone: their characteristics, color, size, clarity and we plan what is the most ideal cut to achieve maximum beauty, not size. My goal is always to take the gemstone and reveal the highest potential of the gemstone — reveal the color, the brilliance that a cut can achieve. Once that gemstone is revealed after our cutting process, I am immediately inspired and motivated to create a piece that will frame the beauty of the gemstone for eternity. I feel so honored to be in a position to work with the highest level of gemstones, therefore I feel it is imperative to create the frame worthy of holding these incredibly rare and natural resources.
Sarah Jessica Parker is more than just a celebrity: Mom, actress, philanthropist, designer, and is known for taking chances with fashion. How did your partnership come about?
It was actually quite easy. Sarah Jessica represents, models and lives an extraordinary and genuine life. She embodies this energy and motivation which is so rare. Her desire to expand to another creative outlet and my desire to work with such a dynamic individual created this beautiful partnership. I feel truly blessed to work with such an open-minded woman who can see beauty everywhere.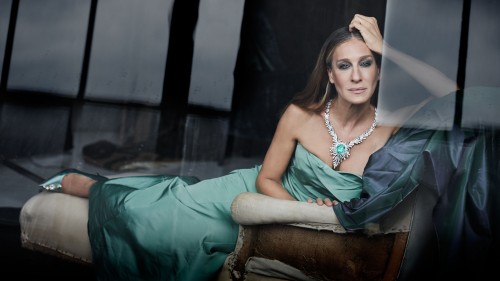 Are you working with Ms. Parker on a design collaboration, and can you tell us a little about that?
YES!!! We have just completed two co-designed collections. Our D Flawless Diamond collection will be available online by the summer! I'm so thrilled to be able to bring to the world a collection created entirely around the finest diamonds in existence. Also our Zultanite collection will be available this fall.
How did you choose these particular jewelry pieces to feature for the auction?
We wanted to curate an auction lineup that would really engage the world. I spent ten years of my life working in the Education field. It is very important to me to give back and give children the opportunity to learn, explore and develop. So in order to get the reaction we wanted, I chose the rarest and most exquisite pieces I have created over the last three years: I wanted this auction to get noticed.
The highlights of the auction are the largest Tanzanite ever to be offered at auction, the largest Zultanite in the world, the largest Paraiba ever to be offered at auction, the largest Tsavorite ever to be offered at auction. I must also say the Gubelin lab in Switzerland was so lovely and certified the pieces at their cost in order to give back to our cause.

I love it when the universe collaborates to do good! There are obviously so many worthy causes to help, all over the world. What was it about Nepal and the goal to rebuild a school that touched off this (extraordinary) event?
Nepal is a very special place to me. I have climbed and travelled there many times. The earthquakes last year were so devastating and it is nearly impossible to get in the necessary supplies and avenues to allow rebuilding to happen. Children continue to go to school in unsafe ruins. Through a few great friends, the necessary foundations were created to begin the process. Now we just needed the funds for the actual build. What better way to help then through your own creative medium? I love the idea of taking what I am most passionate about to attract others to help at the same time as acquiring an incredibly rare investment piece of jewelry. This auction is a win-win for all involved. Those buying are not only giving back to the children of Nepal; they are also acquiring an incredibly rare piece of jewelry created with the highest level of craftsmanship. This jewelry auction is such a worthy and incredible event.
Thank you iDazzle for sharing our story. Xx Kat
Thank you, Kat, Sarah, and everyone else involved in this project, for using their talents and spectacular jewels to draw attention to this need!
The collection can be viewed online as well as a downloadable look book available at https://www.katflorence.com/charity-auction.
For more information please contact Janet Lam (Jewelry Specialist) Janet.Lam@tianchengauction.com, Lya Fu (Marketing Director) Lya.fu@Tianchengauction.com +852 2150 0765, or Diana Beard (Edelman) Diana.beard@edelman.com, 212-738-6102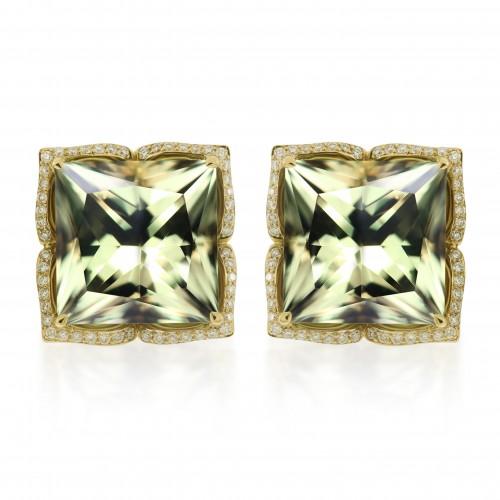 Share Your Thoughts!