JCK published the second in my series of profiles of exciting jewelry designers leading up to the JCK Las Vegas Jewelry Show! I love the opportunity to get to know emerging jewelry designers like Tura and Marie-Juilette, and look forward to seeing them soon in the re-imagined Design Center. These are excerpts from the interviews, you can see the full conversations–and more jewelry–on JCK Online.


Tura Sugden is a Rising Star this year in the JCK Las Vegas Design Center. Her sophisticated, quiet color palette intrigued me early on, but I was even more taken with her jewelry when I discovered that it is all hand made in her studio in San Francisco. This kind of commitment to hand workmanship—Tura is a trained goldsmith—is a rarity in the jewelry world, and I needed to know more about her collections, crafted in recycled gold, 18k palladium white gold, natural ethically-sourced diamonds and a few worthy colored gemstones.


Have you always pursued jewelry as your medium and muse?
I studied fine art and goldsmithing, and I have always been dedicated to both of those disciplines. I pursued goldsmithing as a career because I felt a deep connection when working in precious metals. I continued my studies outside of University by chasing education in San Francisco, Maine, Kansas, Tennessee, and Belgium.
How does your home city of San Francisco inspire your work?
San Francisco is a huge inspiration in the design and development of my work. It's a beautiful city with a rich history and a love of gold. The skeletons of abandoned buildings that are sprinkled along the Bay, and the new horizon of skyscraper frames here are an inspiration. The fog blanket and wind in our neighborhood sets the tone in the studio on most days. There's a calm and coziness about a studio that is isolated by fog that dictates a peaceful environment and soft sentiment, which is when I work best.



Did you (do you) have a mentor in the industry?
I wouldn't have gotten very far without my mentors, advisors, idols, and peers, and I'm lucky to also call them friends. This industry is saturated and there are so many jewelers. Instead of thinking of each other as competition, it has really benefited our community to consider each other as resources. I meet monthly with a group of peers to talk about business, commiserate, celebrate milestones, and support one another as we navigate the jewelry industry.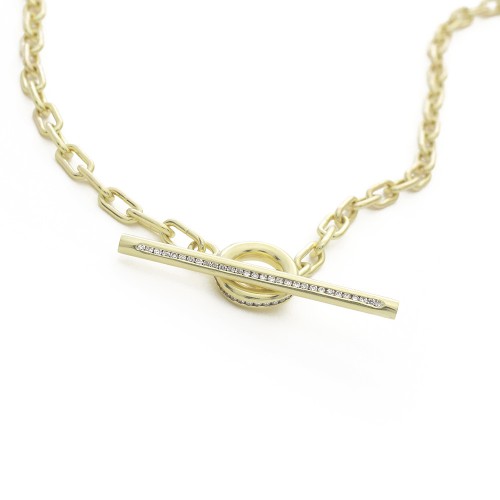 To flip this around, what would you say to an emerging jewelry designer?
Don't be afraid to ask questions, to reach out to designers you admire, and to ask for a little help. Create or join a community that supports you and encourages you, because some days you might need a little extra boost. And don't forget to give that back to your jewelry friends, because even if they look like they're killing it, they might feel just as lost and confused as the day they started their business.
Recording artist Marie-Juliette Bird founded the memorably-named Blackbird and the Snow in 2012. While living in London for ten years and working under master jeweler David Courts, Marie-Juliette collected antique Victorian charms. These charms, vignettes from nature, form the basis of inspiration for the Blackbird and the Snow jewelry: swallows, stars, moons, bugs, wings. Her current renditions speak to a modern sense of scale and layering, but use traditional artisanal methods with specially cut gems and the use of rhodium for textural depth. I thoroughly enjoyed getting a sense of Marie-Juliette's muse and background as a recording artist, and how that shapes her current collections.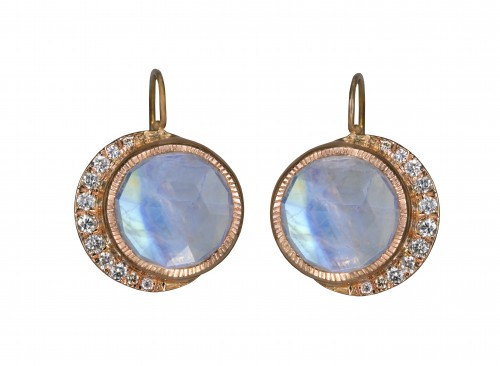 You are also a recording artist. How does music inform your jewelry designs?
Both my music and jewelry are inspired by nature in an essential way. I'm working on a birdsong album right now, in collaboration with Audubon. We actually won an Independent Music Award for the project this year, which is pretty cool. My jewelry designs are symbolic of the natural world: moons, stars, birds, wings, bugs. The wilderness is definitely my muse and I consider all of these efforts as an ode to our beloved natural world.
What are the materials you typically use in your line?
I use a lot of 14k gold because I love the delicate color of the gold. And I have created a very soft rose gold alloy that is reminiscent of Victorian rose gold. I also love moonstones and enjoy finding new ways to use them, for example incorporating rose-cuts and custom creating moonstone doublets. I think moonstones are mystical and subtle and also very feminine; they change color depending on how you set them, how you cut them, the light under which you look at them. I think modern American culture is very male, we value speed and toughness and aggression, and women are encouraged to embody these traits. But I think there is also value in the hidden beauty and ever changing qualities of the moon, and all that it represents.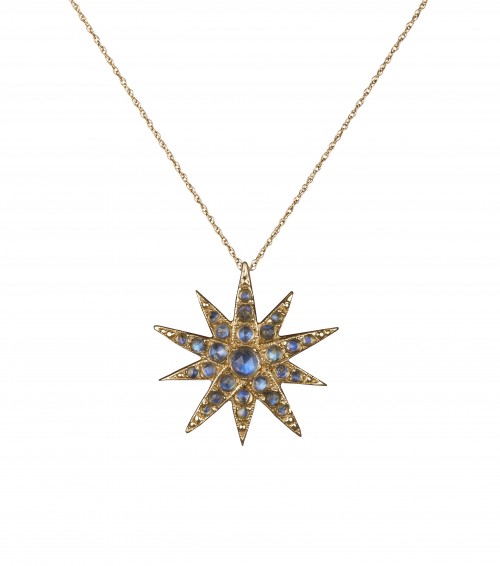 What's the biggest/most memorable moment of your jewelry career so far?
A pair of my 'Fancy Star' earrings were featured on the cover of Vogue magazine in May of 2015. That was a pretty great moment. I had just joined Fragments, and the PR rep, the lovely Alison Cohen, very kindly took me on some editor desk sides. That was pretty much the first press I every received. So–it set the bar pretty high!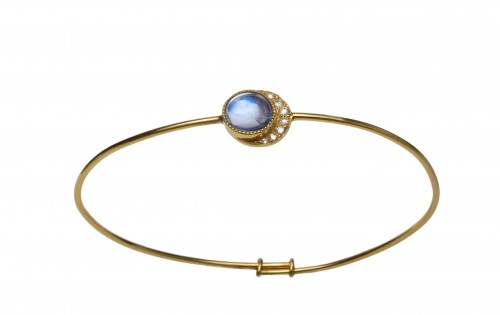 Share Your Thoughts!