This has been an exciting (and poignant) year so far. There is a lot going on in the jewelry world, and I'm trying to participate where I can. In addition to writing about interesting designers and traveling to trade shows to see the latest collections, there is a lot of conversation happening around responsible sourcing (read my recap of the inaugural Jewelry Industry Summit here). I will be continuing that conversation in just a couple of weeks, when I attend the 6th Annual Gold Conference in New York City on April 28th and 29th. I will be speaking on two panels: "Presenting Luxury on Social Media," and "Responsible Design: Jewelers Making Ethical Choices in Sourcing."


More than *just* a conference about gold, this brainchild of Lisa Koenigsberg, President of Initiatives in Art and Culture, looks at gold through the lens of the art of the metal and those who create with it. This year, it also looks at jewelry's emotional power, cultural significance, and how the notion of "value" has expanded in the journey toward universal adoption of ethical sourcing and transparency. If you're on the fence, or looking for a reason to go to New York City, this conference is open to all–not just jewelry industry members–and promises to add value no matter where your interest lies.
GOLD: Mentors, Milestones, and Metamorphosis
Thursday, April 28 – Friday, April 29, 2016
The Graduate Center of the City University of New York
365 Fifth Avenue (between 34th and 35th Streets) NYC
To register go to https://www.eventbrite.com/e/sixth-annual-gold-conference-tickets or call 646-485-1952.
I have arranged for a special rate for the idazzle community of half-price tickets at $175 (versus $350); select "Registration with Code" and use promo code: idazzle in the checkout process.

I invite you to be a part of the discussion! It's so powerful when we can come together to learn, to listen, and to share our experiences. On Thursday at 1:50pm, I'll be joining my friends
Barbara Palumbo
of the must-read blog
Adornmentality
and
What's On Her Wrist
, and Hannah Becker of
Diamond Doodles
on the Social Media panel with moderator-extraordinaire
Ben Smithee
of
The Smithee Group
. As Ben said recently, get ready to "rock some faces off" for what should be a lively and hopefully hilarious discussion.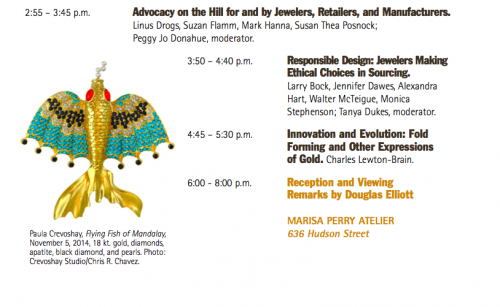 On Friday at 3:50pm, I'll be putting on my
ANZA Gems
hat, and talking responsible sourcing in jewelry design with
Jennifer Dawes
,
Alexandra Hart
,
Larry Bock
,
Walter McTeigue
and our moderator,
Tanya Dukes
of INSTORE/
INDESIGN Magazine
. There are so many people involved in this who are DOING, not just TALKING, and I can't wait to learn from everyone.
I feel so lucky to be a part of this. It's more than a conference. It's a movement. See you there! #bethechange #letsbegin

Share Your Thoughts!