The JCK Las Vegas team asked me to get to know a few of the Rising Star Designers in the JCK Design Center. For the whole article, you can click here for jckinsider.com/designofthetimes. I am excited to share these emerging designers with you here on idazzle, too!


Amy Glaswand is one of the Rising Stars I look forward to meeting. Her thoughtful jewelry designs are tight, well-defined collections based on classical architectural and iconic design elements. The sculptural forms sing with pure design elements and just the right colored gemstones as anchors in 18k gold and oxidized sterling. Amy's lifelong involvement with fine arts, including the fashion industry, shows in how she manages to translate historic themes with a totally modern sensibility.
idazzle: Your design philosophy in a word or phrase:
Amy Glaswand: "Classic elements in a modern translation."


Coming from the fashion and costume design world, how does that influence your designs?
My jewelry is definitely influenced by my background. Because I come from design and fashion, I try and take trends that are consumer driven and be aware of them. And then l look the other way. My designs are not generic, but I try to transcend trends. I don't look at jewelry as only art, or only commerce. While jewelry is an art form, people still have to wear it. And jewelry should still nod to a statement of who you are as the wearer.
Doryn Wallach is another Rising Star jewelry designer who embraced jewelry after a previous career. In Doryn's case, she spent two decades in Interior Design. You can see her former career inspiring elements of her jewelry design, particularly Art Deco and Hollywood Regency: a curved line here, a repeating pattern there. Her Instagram account is a delightful amalgam of all her passions: art, architecture, magazine tearsheets, travel. Doryn is gathering steam and press: she is definitely #onetowatch.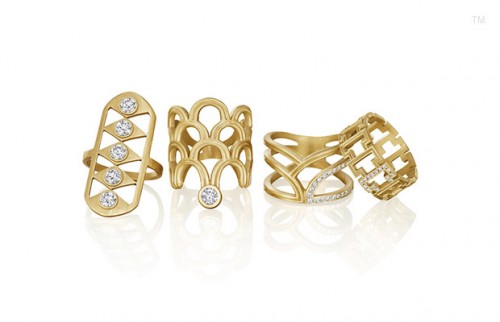 idazzle: What piece(s) from your collection would you wear everyday? Special occasion?
Doryn Wallach: I wear three of the gold octagon stackable rings with my three sided diamond octagon ring on one hand and on the other I always wear my white diamond Gladiator ring. These pieces are simple yet make a statement. The Gladiator has particularly special meaning for me because it's the piece that sparked my decision to design jewelry full-time. For special occasions, I most often wear the octagon long earrings and the diamond screen cuff.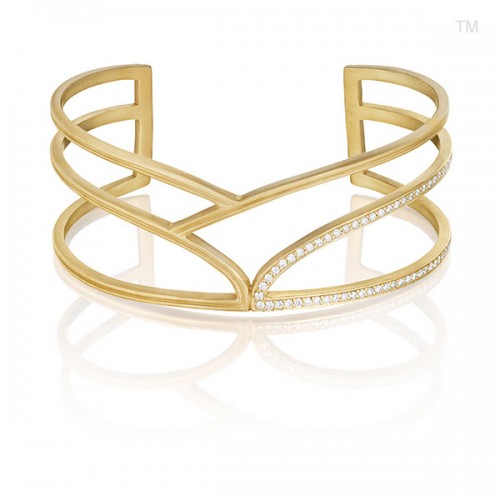 What would you tell your just-starting-out self on the cusp of starting a jewelry line?
Be patient, ask tons of questions, learn from the experts, never act entitled and work as hard as you possibly can. Make relationships in the industry with wonderful people and don't expect everything to happen immediately — it takes time. Staying inspired is key!
Read the full interviews on JCK here, and can't wait to meet you, Amy and Doryn!
Share Your Thoughts!