I had a very enjoyable and informative discussion with Lisa Bridge, of Ben Bridge Jeweler, in her office in downtown Seattle. As we passed a room full of watchmakers working on customer repairs, Lisa explained the roots of the family business in watch making. She represents the fifth generation of Ben Bridge Jeweler, a business that is over 100 years old, and thriving today with over 80 stores.

It is no wonder that Lisa feels a sense of responsibility and commitment to the jewelry industry given the history of her family's business. We talked about Lisa's visit to the
Diavik
mine in Canada, where she viewed first hand one of the sources of the Ben Bridge's
Ikuma Canadian Diamonds
, which are traced from far Northern Canada through the cutting process and into consumer's hands. Following a conversation with
Ruth Batson
, CEO of the
American Gem Society
–AGS is the bastion of ethics in the jewelry industry–Lisa's sense of responsibility took a tangible form in joining the Jewelry Industry Summit
Planning Committee
, a group of volunteers from various sectors of the jewelry industry.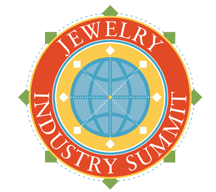 The
Jewelry Industry Summit
hopes to have an industry-wide conversation about the challenges, opportunities and possibilities related to responsible sourcing in the jewelry industry supply chain. This discussion is slated for March 11, 12, and 13 in New York City at Fashion Institute of Technology, 227 West 27th Street, New York City. Registration is available
here
. It's important to note that this is not a typical conference of sitting for two days and listening to a series of speakers. There will be small and large group discussions, facilitated by professionals trained to build towards consensus. The ultimate goal is an actionable blueprint for moving forward.
An important component of this conversation involves having a representation of all stakeholders participate: miners, dealers, designers, watchmakers, retailers, and everyone in between. This is vital, as those who have the most to gain or lose in this conversation are not always the ones able to attend due to geographic and economic barriers. Organizers would love to offer scholarships to assist individuals to attend who would not otherwise have the opportunity, and are fundraising to achieve that goal (for more information on contributing or scholarships, click here).

A Conversation with Lisa Bridge about the Jewelry Industry Summit
idazzle: How did you get involved initially?
Lisa Bridge: Following a conversation with Ruth Batson at AGS, I realized this was something in which I personally and professionally believe. At Ben Bridge, it is very important to us to have products that we can sell with confidence to the end consumer. As part of that goal we have vendor agreements where we spell out our requirements and standards. I am proud to be involved in the work as an industry to build a brighter, more sustainable future for all stakeholders.

What is the goal of the Summit?
To get a diverse set of backgrounds together in one place and talk about the challenges. We need to collectively set a vision of where we want to be as an industry. In 2020, in 2025, what does that look like, and, importantly, how do we get there? Consumers and the industry both need to believe in those measures. We need room to grow and iterate and find ways to improve.

There are some big names in the jewelry world involved with the Planning Committee (Richline, Rolex, Borsheims, Rio Tinto…). How would you respond to the question of how perfectly these companies follow responsible practices themselves? Isn't it hard to suggest solutions and compliance when there may be work to be done at the ground level?
There are some things we are doing well as an industry, and others could use improvement. If we wait for perfection, we will miss the greater good that can be accomplished. We need to have the conversation and work towards our common goals. There's good that can be done now.
What do you want most from this Summit?
We want people to be there and be willing to come to the table. This is not scripted, it's not lectures. This comes from a genuine desire to create good in the industry. No, we're not perfect. But if we can get closer to an approximation of perfect, then that is an accomplishment.
Thank you, Lisa, for answering my questions about the Summit! I am planning to attend in March, and I hope that a number of interested colleagues can join me. We need to start somewhere, and having this conversation is an important step. I've seen first hand the challenges facing the communities at the source of our beautiful gems and jewelry. We don't have to wait for NGO watchdogs. We have the power to instill confidence in consumers through responsible practices, starting now.
You can find out more at www.jewelryindustrysummit.com, and join their Facebook page here.

Share Your Thoughts!