Movies are brilliant. They capture our imagination as nothing else can: we're transfixed by the big screen and stereo sound, and time passes unnoticed. Maybe that is why I'm so excited that there is a full length documentary devoted to jewelry. Sharing the Rough is a professionally produced film with a thoughtful theme: the source and origin of colored gemstones used in jewelry, and the journey that a gemstone makes to become a finished piece of jewelry.


It is with great pleasure that I announce that Sharing the Rough is coming to the big screen in Seattle! On November 5th, at 7pm, the film will make its Seattle screening debut at the Landmark Guild 45th Theater. You can buy tickets by clicking here.


This screening is just one event in a packed year of activity for Sharing the Rough. The film made the rounds of the film festival circuit, garnering attention and awards–sometimes selling out in a matter of days. It won a Platinum Remi award for Feature Documentary at the Houston Film Festival. Two respected organizations, the American Gem Society and Jeweler's Mutual Insurance Company are sponsors of a nationwide theatrical release of the film. That means that there's a very good chance that Sharing the Rough will show up on a big screen near YOU!

Whether you are a documentary devotee, curious about Africa, passionate about product origin, a hobby faceter, an experienced jewelry designer, a flamboyant jewelry collector, a gemstone enthusiast, an armchair traveler, or independent film fanatic, you will appreciate this film. It speaks to passion, craft and perseverance in a way that will move and entertain you.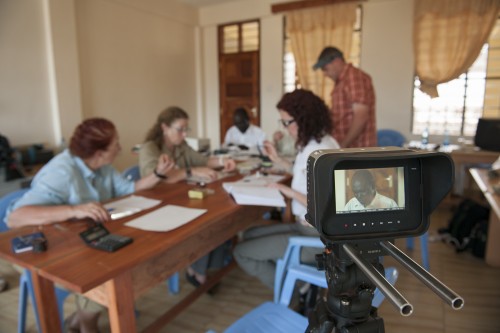 Many of you have read about my
adventures in Africa
, involving gemstone hunting and a desire to help the gemstone trade there. Traveling with the film is how this all began–and opened my eyes to another world. A world that many don't know or will ever experience, and one that deserves our attention. This story–determination, grit, beauty, geologic wonder, passion, skill and one hand helping another–is told eloquently through film. (I can't believe I'm saying this, but…) Words alone can't always tell the story.
I hope you can join me in Seattle on November 5th. If you aren't in Seattle, but want to see the film as it crisscrosses the country, check the schedule at the Sharing the Rough website here. You can also contact the Producer here to see about bringing Sharing the Rough to your own city!
I'll buy the popcorn…

Share Your Thoughts!