On a balmy New York evening on July 27th, I attended the annual Women's Jewelry Association Awards for Excellence Gala. I was nominated for an Award for Excellence in Editorial Media. For the third time. I joked that I was the Susan Lucci of jewelry editors.


I'm so happy to say that I won the award! I still kind of can't believe it…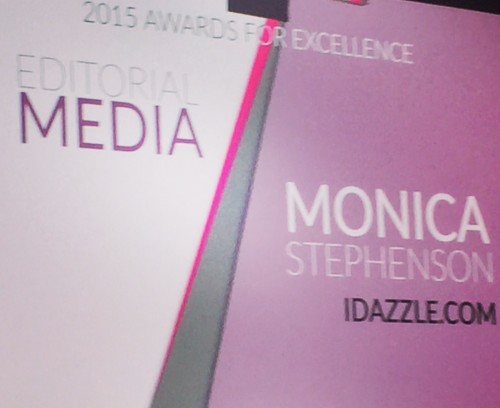 It was a magical night from the beginning. I got dressed in a black
Monique Lhuillier
confection of a dress involving tulle and a small train that required constant vigilance lest it get stepped on.
I donned a necklace by jewelry designer Jennifer Dawes. This necklace won an AGTA Spectrum Award in 2013, and I've been mildly obsessed with its mix of raw and faceted aquamarine, emeralds, diamonds, and 18k gold ever since. Imagine my over-the-moon surprise when my husband presented me with this necklace before the event, an early gift for our 20th wedding anniversary! The evening was just beginning, and in my mind, I'd already won!

Speaking of winning, my whole family was with me in New York City. We were all on our way to a family vacation, and my daughters, mom and husband were all with me. I think that's the real reason I won this year: the award was just waiting for me to have everyone in NYC to celebrate!
We got to Chelsea Piers early for pictures, which meant that I saw some of besties in the jewelry business. Over the course of the cocktail hour, I connected with many more friends and colleagues, and met some new ones.

We sat down at our table with friends: jewelry designer and social media star
Wendy Brandes
,
Peggy Jo Donahue
, and fellow nominees
Monica Rich Kosann
(Design) and
Deborah Nicodemus
from
Moda Operandi
(Retail, Non-Traditional). There were over 700 people attending: you could see the curvature of the earth in that ballroom.
I loved hearing the stories of the WJA Grant recipients, such as Lisa Kim of Lisa Kim Fine Jewelry and Jenifer Bellefleur, winner of WJA's first Female Veteran Scholarship. Then the awards announcements started. It was all very exciting, as no one finds out beforehand who won. I think only Bernadette Mcgovern Mack, the incredible Executive Director of WJA, really knew whose names were in those envelopes—she's our own Price Waterhouse Coopers!
Some lovely women, many friends of mine, won awards: Pamela Froman of Pamela Froman Fine Jewelry took home the Design Award for Excellence. I met Laurie Watt of Mayer & Watt, winner of Manufacturer/Dealer/Supplier. Eve Rogers won for Retail: More than 15 Stores for Graff. The lovely Veronica Guarino of Louis Anthony Jewelers took home the Retail for less than 15 stores award. My table mate Deborah won for Nontraditional retail as CEO of Moda Operandi. Amy Levine of Gurhan won for Sales and Merchandising. Becka Johnson Kibby of The Edge Retail Academy won for Special Services, and Jeanine Drtina of Cartier for Watches. I also cheered very loudly when my girl-power heroes of Gumuchian–Anita, Myriam and Patricia–accepted their very deserved Corporate Award.

When my good friend
Rebecca Moskal's
name was announced as the winner of Marketing and Communications, I was ecstatic for her, and terrified for me, as it meant that Editorial Media was up next! I was either truly going to be Susan Lucci or have to speak in front of 700 plus people! Either outcome was going to involve copious amounts of champagne: to celebrate, or drown sorrows.
The real reason I won? Besides my family traveling with me, I think it had to be the good karma generated by having my Contemporary Jewelry Design Group fanclub in attendance: Vicente Agor and Michael Pfeffer, Marylouise Lugosch, Malak Atut, Julie Romanenko, Sara Freedenfeld. They were there to cheer on fellow CJDG nominees Pamela Froman for Design and Ellen Hertz from Max's, nominated for Retail. Check out the incredibly clever and hilarious fan masks they made to cheer each of us on!


Once they called my name, the evening was a kaleidoscope blur. I made my way to the stage and managed to not trip going up or coming down the stairs (which was saying something given my dress). I tried to say something eloquent, maybe I succeeded.


I'm so thrilled. There are so many things to love about the jewelry industry: the close-knit ambience, deals done with a hand shake, the sense of family. These qualities are amplified in the Women's Jewelry Association. I have been welcomed, supported, and made fascinating connections with women and men involved in WJA. My fellow Editorial nominees are doing great things, and you need to watch them: Danielle Miele of Gem Gossip continues to innovate the jewelry blog space and constantly amazes me with her drive and creativity; Eileen McClelland works tirelessly in the trade press for InStore; and I enjoyed meeting Sarah Lisitski Gerrish of Redbook (formerly More Magazine) that night. There are mentors and role models for me, like Cindy Edelstein, Andrea Hansen, and Peggy Jo Donohue. There are editors/bloggers/writer role models like Cheryl Kremkow, Jennifer Heebner, Michelle Graff (Winner of Editorial in 2014), and friends who are simply everything: Amanda Gizzi, Malak Atut, Erica Courtney, Helena Krodel, Payal Shah, and so many more. And Barbara Palumbo, I love you and look forward to celebrating when it's your turn!

The energy in the room, which has stayed buzzing with me the past week, was palpable and inspiring. I can't wait to see where all of this leads. We are at a crossroads in the jewelry industry, where a new conversation is taking place, and a blogger from Seattle can be noticed on a national and international scale. There are issues in the jewelry business that will need to be solved (that's another subject for another post), but this is where the solutions start: with our shared passion, commitment and connections. Thank you to WJA for recognizing people in the industry. And thanks for reading idazzle.com and
cjdgjewelers.com
, believing in me, and celebrating all things sparkling. Cheers!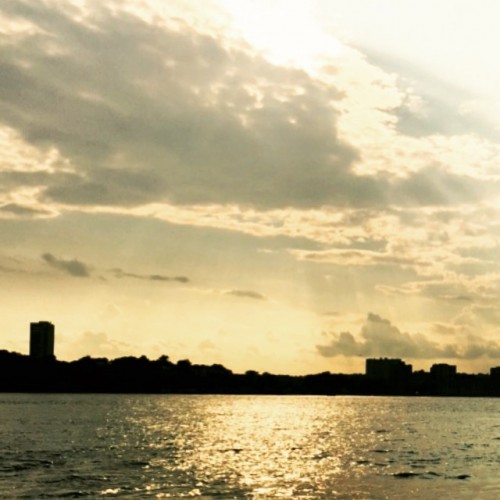 Share Your Thoughts!