While I was in New York City recently, I had the opportunity to attend the Diamonds With A Story Press Preview. The origin of jewelry–where it comes from–is always a theme I am interested in, so I jumped at the chance to get to know the story behind Diamonds With A Story.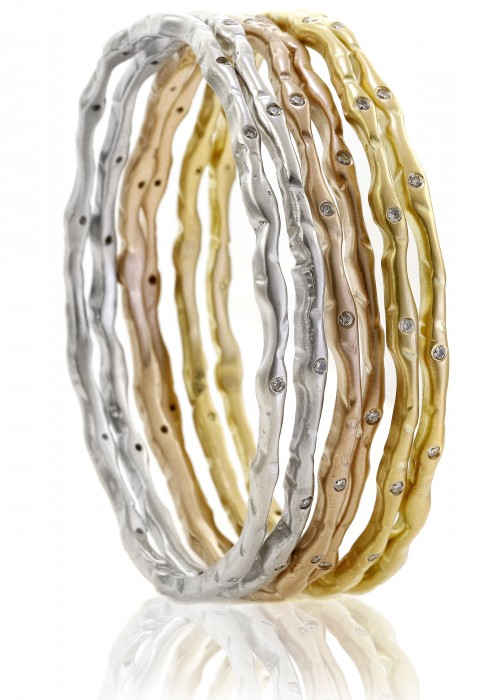 Diamonds can be polarizing. People love them, or they deeply distrust them. Where did this diamond come from? How do I know that no one was harmed in the mining and distribution of this gemstone? What about the environmental impact of mining in the communities they come from? These are just a few of the questions I get asked when people find out I am a jewelry/gemstone expert. These are also issues I care about deeply. It turns out that others in the jewelry industry care about this, too.
Rio Tinto, the mining company behind the Diamonds With A Story initiative, has a controlling interest in four diamond mines around the world. The diamonds for Diamonds With A Story come specifically from the Argyle Diamond Mine in Australia. Diamonds from Argyle have a completely transparent path: environmental and human rights requirements are strictly adhered to, with workers paid competitively and given generous benefits. Argyle also produces some truly incredible diamonds of natural colors, ranging from pale silver and very light golden brown, to intense cognacs and sherries, to pretty pinks and lavenders.


Diamonds With A Story commissioned four designers to craft special capsule collections around the themes of Cutting Impact, Color My World, Shaped By Origin, and Mixed Medium. Each collection expresses the designer's aesthetic, but using diamonds that are "not your Mother's diamonds" (unless you Mom is utterly cool), and allows for beautiful–and surprisingly affordable–self expression.
Dawes Design, Cutting Impact
I love Jennifer Dawes of Dawes Design. She shines so brightly in her jewelry design, and has maintained a focus on sustainable jewelry since 2005–well before most people were remotely talking about "responsible sourcing" for jewelry. If Jennifer Dawes believes in DWAS enough to craft an entire collection around their diamonds, that is a huge testimony. This designer does her due diligence.

I had so much fun trying on her jewelry! Jennifer already designs jewelry that is modern and fresh, with a slightly organic bent. For this project she was able to fully explore, through interesting shapes and truly lovely colors, the spectrum of diamonds from the Argyle mine. Her theme was
Cutting Impact
–how and where these diamonds are cut.
The fact that the diamonds are certified from the mine was attractive to Jennifer, and–for the first time–she could actually trace the path of the rose-cut diamonds that she used throughout the collection. Normally the trail of a diamond's journey, even from a responsible source, goes cold once it hits the cutting facilities scattered around the world. In this case, the diamonds have a completely transparent path from the mine, to cutting in India, to her studio in California. All of the gold she uses in the DWAS collection is
recycled
or
Fairmined
gold. How's that for a wonderful story? From beginning to end, it is sparkling translucence.
Suzanne Kalan, Color My World
It was a delight to speak to Suzanne Kalan, an award-winning industry superstar who has designed wearable, completely exceptional jewelry for nearly 25 years. Their business is a family affair in Los Angeles, with daughter Patile designing the KALAN 14kt gold line, and Suzanne designing her namesake 18kt gold jewelry. The Kalan's DWAS collection was very well-developed, with designs I loved ranging from around $600 retail to several thousand dollars.

Color My World
focuses on the gorgeous spectrum of natural colors that come from the Argyle mine. From yellow to grey to brown to pinkish, all set into rose gold, the Kalans perfectly complemented the warm hues of the diamonds they selected. The rings, earrings and pendants were fun, modern designs that captured the nuances of the subtle colors of the diamonds. They felt special, but very wearable.
Their inspiration board was especially captivating: images of spectacular embellishment and bright bursts of sparkle on clothing, shoes, interiors, even fireworks! Suzanne explained that once she found her initial concept, she was off and running with ideas. There is literally no stopping her once the ideas have started! I could feel that energy in the jewelry. I didn't want to take it off…
Sandy Leong, Shaped By Origin
This was my first time meeting fine jewelry designer Sandy Leong. Her collection had a very cohesive look, built around the theme of Shaped By Origin.

All of the diamonds, being from the Argyle Diamond Mine, share the benefit of pinpointing their exact source. Sandy used these diamonds with a provenance, from slightly polished diamonds set as beads, articulated in a ring ($550 retail in 18kt gold), to round brilliant diamonds set into her sinuous "Rain" collection cuffs, rings, earrings and necklaces. There was a weight and heft to the 18kt gold, with negative space to perfectly balance the mass. Sandy painstakingly carves all of the original wax models, which accounts for their sculptural feel. With the silky finish of the gold, and the feel of the curves, this was jewelry that felt wonderful to try on.
Matthew Campbell Lauranza, Mixed Medium
The very charming–and talented–Matthew Campbell Laurenza took me for a spin through his Mixed Medium collection. This category is meant to give jewelry designers some freedom to play with the materials used: traditional precious materials and approach need not apply. Matthew's inspiration for the collection was armor and weaponry, which I could see abstractly in points and shields that wrapped in various ways around the body.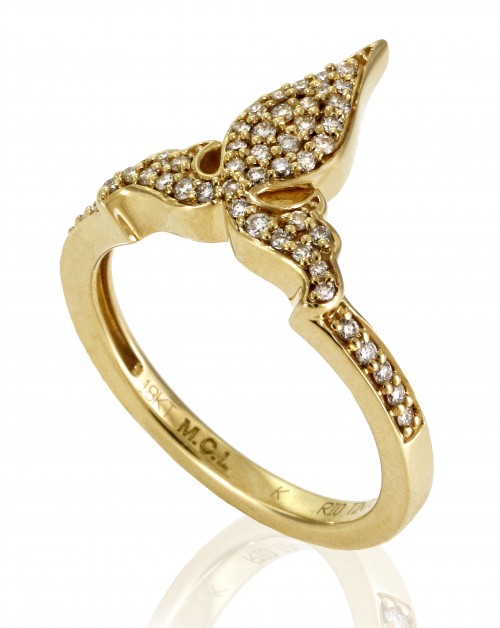 Matthew's intention with this DWAS jewelry, which is priced very attractively due to the natural colored diamonds from Argyle's mine, is to foster collectors. Matthew believes that there are people who want to build jewelry collections, not just as an investment, but as an expression of personal style. He designed around this idea, so that you can play with initial pieces, and add more each season. Matthew will continually create more jewelry in this collection each season to stack, layer, and work with existing designs.

He had a particularly intriguing group of pendants, with different colored metals on the front versus back, and 15 varieties of custom-cut gemstones. Through an ingenuous mechanism, the pendants open and allow for interchanging gemstones. He even has an App coming out soon that will allow you to take an image, upload it, and apply that image through an enameling process directly into a gemstone. It's the ultimate form of personalization, capturing a moment in time that can be layered and combined with other elements into something uniquely–and preciously–yours.
All of the collections had a story to tell. As Matthew said, "it's important to see the designer's hand in capsule collections, but this opens it up into a different aesthetic." The jewelry I saw at the
Diamonds With A Story
event allows people who are concerned about the origin of their jewelry to play, collect, build and expand their jewelry relatively affordably. I saw cohesive jewelry assortments that represent each designer's core aesthetic, but allowed some foray into inventiveness. Jewelry is intimate: you live in it, it becomes part of you. This jewelry could become part of your story.
Share Your Thoughts!