Remember those arresting engagement rings by Erika Winters profiled here?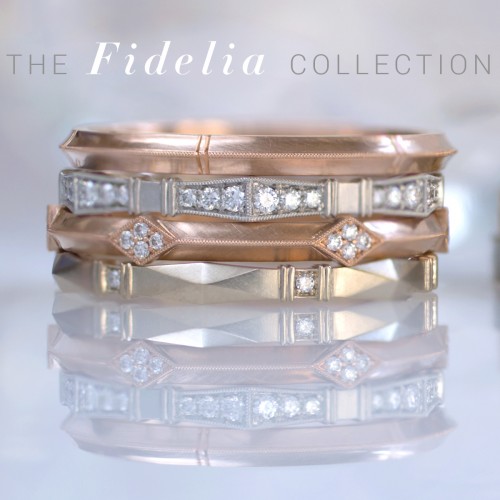 I am so happy to announce that Erika has just launched a collection of bands with her singular style. The designs, like the name of the collection, Fidelia, (which means "faithful") manage to be both classic and familiar, but with an angle, a turn, an element that feels fresh. Eight distinct designs can layer together, or stand completely apart.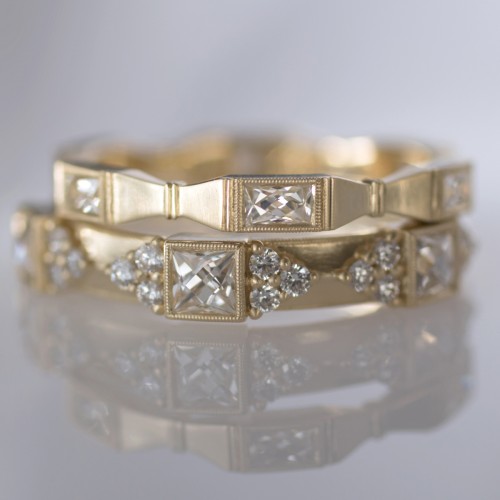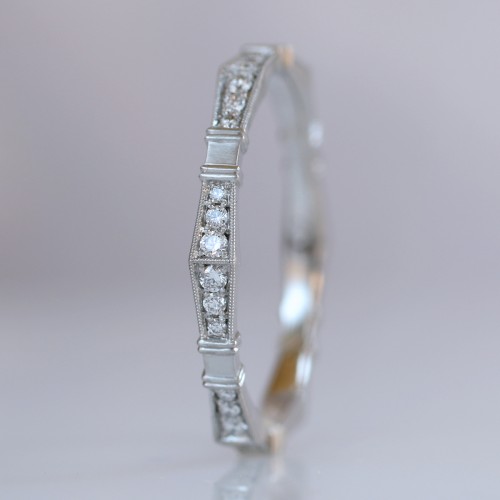 There is no end to the creative combinations in four precious metals: yellow, rose and white gold, or platinum. A few of the designs feature absolutely stunning French Cut diamonds in an antique pattern, faceted by a renowned cutter. Being a French Cut nut–my eternity band is an unbroken circle of vintage French Cuts–I was particularly impressed with the high crowns and lovely symmetry of the diamonds.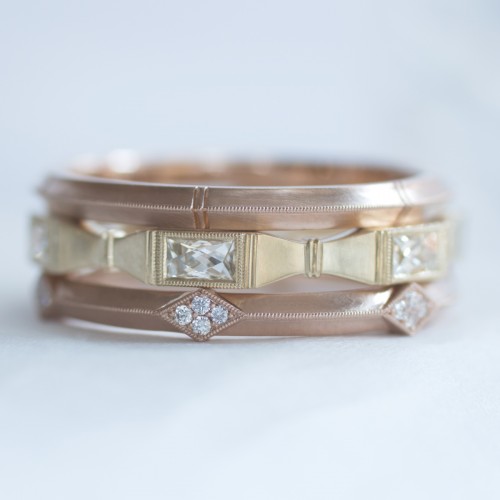 Wear them singly. Wear them together. Wear with your engagement ring as a wedding band. Celebrate an anniversary. Celebrate a promotion. Treat yourself. The possibilities to express yourself are almost endless in the eight designs, all hand-etched and hand-crafted in Erika's home city of Seattle. The finish, like her engagement rings, is a sinous, silky surface, in its own space somewhere between luster and matte.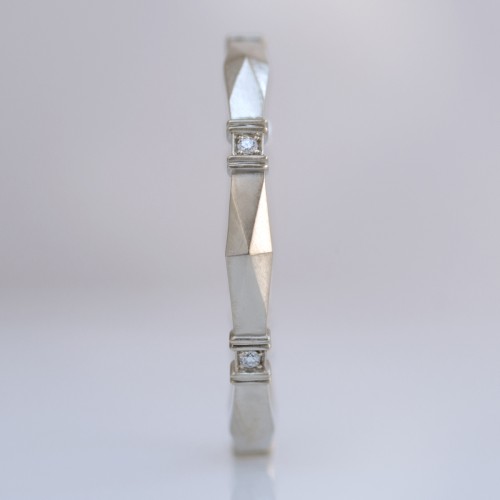 Erika is a writer, an artist, an editor, and a gifted photographer, among many other talents. But as a jewelry designer, she harnesses her collective memory and conciousness to somehow capture an aesthetic that is clean, precise, vintage, Victorian, lean and voluptuous all at the same time. Brava, Erika!


About the collection, Erika says "I'm so excited to see this first wedding band collection realized! It's really amazing to see the meaning shine through the rings. I named the collection Fidelia, a word derived from the Latin adjective meaning faithful, loyal, and true. The name is a play on the themes in the rings themselves, as the designs hearken to Victorian medieval revival—specifically chivalric themes in art and literature of the period—but with 21st century style and attitude. More women are choosing their own engagement rings than ever before, and when it comes to the wedding band (or stack of bands!) women are selecting and purchasing for themselves. It's a new chivalry, a new romance. Women can be loyal, faithful, and true to themselves and their goals–and their personal style–as well as their partners. And as contemporary couples and nuptials evolve, bridal jewelry evolves too. It's incredibly exciting."
Which one captivates you? Contact Erika about her bands here, and be sure to follow her gorgeously curated Instagram.

All images courtesy of Erika Winters.
Share Your Thoughts!