Ringly has arrived. I was so excited to see that box, after months and months of teaser emails ("more delays in securing our required stone quality…"), that I may or may not have shredded the cardboard getting into it.
I placed my order for Ringly after reading significant press in a few jewelry trade and consumer magazines. I don't know the exact date, but I was in Paris at the time, so it has been at least seven months since I placed my Pre-Order. At the end of November, I received a tantalizing email that they were ready to finalize my order, so I supplied my finger size and waited. And waited. And waited some more.
Why Ringly? Busy women receive notifications throughout the day on their phones or devices–which are often in the bottom of their bag. The premise behind Ringly is that with this device, you can be fully immersed in your actual life and not miss an important message. I am pretty much the "wearable tech" target consumer. I am very involved in social media, but I'm frequently in business meetings or helping in my kid's classrooms, so my phone is always in silent mode. I don't need all the urgent but not important notifications, but I'm afraid of missing something more critical relating to family or an important project. Ringly looks like a ring, crafted of gemstone and gold-plated or Rhodium-plated brass, currently available in several gemstone choices illustrated here. When you are wearing Ringly, you receive notifications from the applications YOU choose, delivered through a vibration of the ring itself, and a small gemstone set into the side of the ring that lights up in different colors. It's subtle enough that no one at a conference table is going to notice, but you won't miss it.
Is it worth the wait? The packaging was incredible: sleek and felt special, like it was jewelry (wrapping paper with a facet print!!). There were two boxes inside, one is the ring box and the other is a charger. Oh yeah, you have to plug it in! The letter from Ringly founder, Christina Mercando, was articulate and felt personal.
With much anticipation, I unwrapped the box. The ring box is actually an exceedingly clever little charging station. The ring slot ensures that the 2 small sensors on the bottom of the ring are cradled for charging. The large emerald-cut gemstone sat atop the golden beveled band.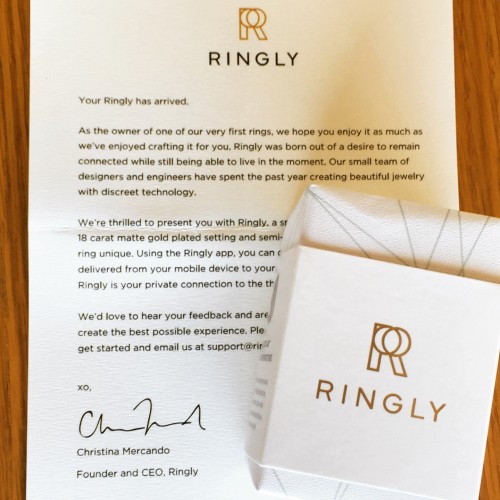 And the reveal of the ring with the "Daydream" Rainbow Moonstone gem?
Well, um, hmmm. What I received didn't look much like the promotional pictures on their website, nor even the image on their little packaging sleeve. There is no rainbow to this moonstone, no pleasant bluish cast shining through veins of milky white. The much-touted (remember the emails about gemstone quality and delays and sourcing?) moonstone is mostly just opaque white. Almost chalky. It is not going to elicit breathless oooohs over lunch or drinks with the girls based on its beauty alone.
The Ringly is also huge in scale. I was expecting something substantial, but this is pretty serious: the center gemstone is 14mm X 19mm. If you have very small hands, this Ringly iteration may not be for you (measure it out on your finger). Besides the fact that they only offer ring sizes 6, 7, and 8, currently, the top part of the ring is large and heavy. Even if I COULD have ordered a 4 and a half for my ring finger, it would look ridiculous on a finger that size. It barely looks reasonable on my index or middle finger. And I subscribe to "there's no such thing as too big" when it comes to jewelry!

So after trying to filter my Instagram photo to be as flattering to the moonstone as possible, I plugged the charging cable into the box, and left the ring to charge. Once it was done, I downloaded the
Ringly App
and set up my notifications. The app is so easy and intuitive, it took maybe 15 minutes total to set everything up, including the download time.
To set up Ringly, you add some contacts so that you are notified if those people send you a text or phone call–your "Inner Ring". In "Notifications" you can choose which applications you are notified for, with a vibration and color. I've been using the Ringly all week, and I'm still figuring out which color notification is which. Granted, I have 9 or 10 applications I want to be notified for (I will never miss an Uber again!!), but I'm starting to get a feel for it. And if you're active on Twitter or Instagram? You may not want it to vibrate for every.single.notification. Unless you (ahem) like that sort of thing.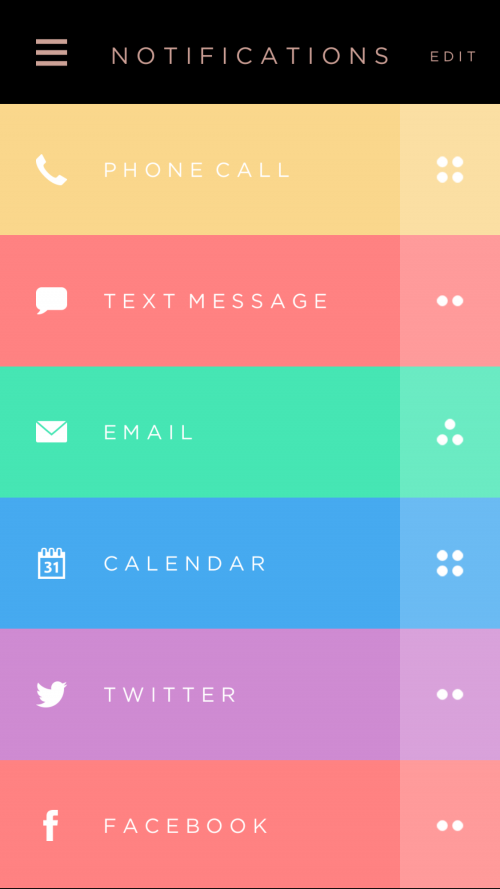 So how do I like it after wearing it for the past several days? I have to say that I like it. In fact, I like it a lot. I didn't realize how often–and how frantically, if I'm really being honest–I check my phone a day. I am highly mobile: going from home to my kid's school, to my office, to a lunch meeting, to a studio appointment, back home, then to dinner. My giant iPhone 6 Plus is always in my pocket or bag, rarely in my hand. Now I know to check when the side indicator gem glows red and I figure it's a text from my family. I don't miss a thing.
Ringly Pros
Never miss an important call, text, notification–AND YOU GET TO CHOOSE what and how.
Overall good design.
Works very well.
Extremely easy, intuitive set up.
Long battery life (the site says 2 days).
Cool box that is a charging station.
Relatively practical–it's somewhat water resistant for hand washing at least.
Easy and attractive website and App navigation.
Ringly Cons
Design is still large and rather clunky.
Limited ring sizes available (6, 7, and 8 at this press time).
Long lead time, depending on gemstone chosen.
So-so gemstone quality, based on what I received versus what the images and messaging promised.
Another thing to charge…
The price, $195 for most of the gemstone options, and $260 for an Emerald option, could be a Pro or Con depending on your perception*.
Bottom Line
Will Ringly find a place in my jewelry wardrobe and outlast its initial "Gee Whiz" novelty? I love the functionality. Being a lover and collector of fine designer jewelry, the current lackluster gemstone and plated metal doesn't thrill me. I personally would love to see the mechanism shrink a little, and I would pay more for something made of more precious materials. I think there is room for an actual jewelry designer to partner with the technical aspects and create something women will clamor for. If one of Jamie Joseph's rings, for instance, could notify me that my flight is about to board, my life would be complete…
What do you think about Ringly and wearable technology? Comment and let us know!
*Please note that I purchased and paid for Ringly on my own.
Share Your Thoughts!