I am leaving my first VICENZAORO jewelry show with that singular mix of exhaustion and exhilaration.* The exhaustion is likely from trans-atlantic travel and an exciting pace of activities that VICENZAORO show organizers set up. The exhilaration is most certainly due to the breadth, depth and quality of the jewelry I saw.

VICENZAORO
The Boutique Show
completely changed their show format for 2015, and it was absolutely gorgeous. Many halls didn't feel like a traditional trade show at all, with plush carpets and brilliantly-lit booths glinting with jewels. The show was divided into six different districts, each with its own flavor and unifying characteristics, such as Icon, glittering with bespoke high jewelry, and Look, the place to discover new brands with a fashionable edge. Each theme had its own identity and color theme (though I didn't actually find the colors that helpful when navigating the show).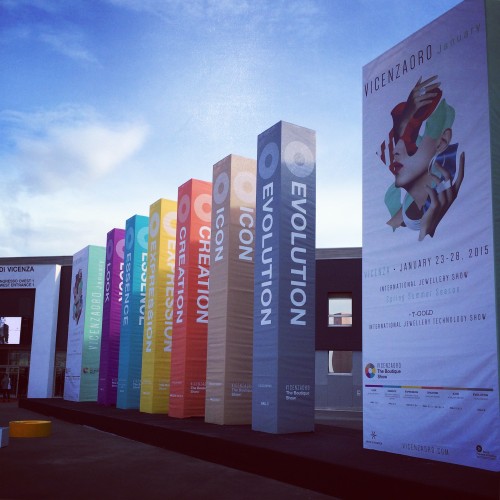 I was very impressed with the quality of the jewelry vendors. The jewelry was exceptional, from the finish of the metal to the quality of the gems. The companies represented were overwhelmingly Italian, and this made for some interesting interactions–limited English spoken by representatives in the booths, not always understanding social media or the importance of images and marketing materials–but generally people were lovely and welcoming to the US press that attended.
I didn't hear a lot of American accents spoken in the halls of VICENZAORO. I think it is unfortunate that more buyers from the Unites States don't attend this venue. This is a place to find gorgeous gems, diamonds, and gold from vendors eager to do business with the US market. I saw brand-new trends (silicone and diamonds!) and incredible examples of craftsmanship and thoughtful design. Italy is a global leader in jewelry design and manufacturing, and it shows with this format. Buyers and press get to see avant-garde trends months before the Las Vegas market week in the US, and retailers have a chance to receive the jewelry well before the critical Fall selling season. I spoke with a prominent US retailer who considers it a serious competitive advantage to attend the VICENZAORO show, where they can discover private label vendors in particular and build cohesive collections months before their stateside counterparts. And have I mentioned that the food and wine are better than most jewelry trade shows?
At the opening press conference, the show organizers stated to the press that "business and culture can go hand-in-hand." Proving this, I had some memorable experiences while in Vicenza. We were entertained by the very talented jazz pianist
Stefano Bollani
. Saturday evening after the show, VICENZAORO hosted a tour of the brand new
Museo del Gioiello
. The tour was eloquently led by the Director of the Museo,
Alba Cappellieri
, who is also the new Women's Jewelry Association Italy President. Afterwards, there was a private tour of the Palazzo Chiericati, home to some pretty impressive works of art by Gauguin, Rothko, Wyeth, Caraveggio, and Van Gogh, housed in an impressive Palazzo designed by Vicenza hometown hero,
Andrea Palladio
.
All in all, the show was a true pleasure to attend! Thank you to the show organizers who hosted us. Stay tuned for more jewelry pictures and trends spotted at VICENZAORO…

*Note that some expenses of my trip were covered by the VicenzaOro Marketing and PR team. I was expected to attend the show, press conferences and events, but there were no requirements to write articles mentioning the events or specific vendors. This was an opportunity to experience a jewelry trade show that was new for me, and the opinions I expressed are my sincere impressions.
Share Your Thoughts!