I received this journal as a gift in 2013 and started using in early in 2014. It's nearly full, the last few pages filling up as the year winds down.

There are entries early on that are nearly illegible, as I scribbled my thoughts while bouncing along the red dirt roads in
East Africa
. Some missives were scripted on airplanes, taking me to places like Amsterdam, or from hotels in Costa Rica, Hawaii, or Santa Fe. Pages upon pages are filled with interviews with jewelry designers, like
Pamela Huizenga
,
Arman Sarkisyan
, and
Jamie Joseph
. More than a few pages document an exciting new project that I'll announce soon.
In short, this journal documents my life for the past year. Of course, I do most of my writing and online publishing on an 11″ Macbook Air–it slips into my bag and can go anywhere in the world with me. But an idea, an emotion, often starts in the book, with a pen. The thoughts recorded on paper are different somehow than Word documents or notes tapped out on my phone.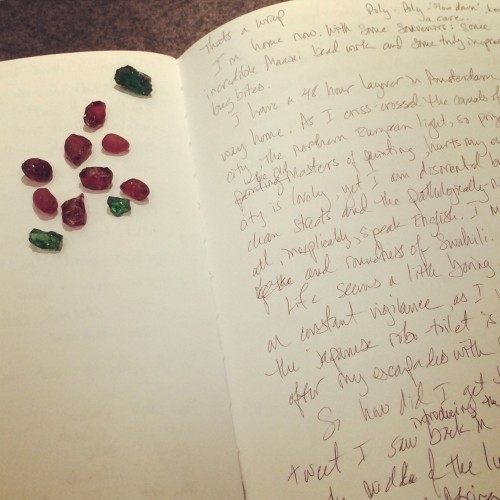 I usually start the year with an intention–some years it has been around health (
green smoothies
anyone?), sometimes it has been about being fearless and
living a creative life
. This year, it is about bringing a sense of wonder and curiosity to everything I experience. I want the kind of awe I see in my children's eyes at Christmas. A belief that magic can happen anywhere if we just open our eyes to it. 2014 was magical in many ways for me, as acknowledged in my journal.
Today, the first day of 2015 (!), I start with a fresh book; all those shiny white pages bound so hopefully. I will fill this one up, one word, one page at a time.
Share Your Thoughts!