This isn't just the holiday season–it's also engagement season. I have heard that almost a third of annual proposals happen between Thanksgiving and New Years Day. I guess this is when promises and wishes really do come true. If you're dreaming of a "white Christmas," or if your own ring needs a little holiday overhaul, you need to get acquainted with my friend Erika Winters.
I wrote about Erika earlier this year when she launched her new engagement ring collection. Each incredibly thoughtful ring is christened with a woman's name, and I immediately fell for her Thea design. It is the ring that Erika chose to set her own cherished Old European Cut into and wear everyday. It's my #idazzledesires for today (and every day!). Erika gave me her thoughts on Thea, and her wish for the season…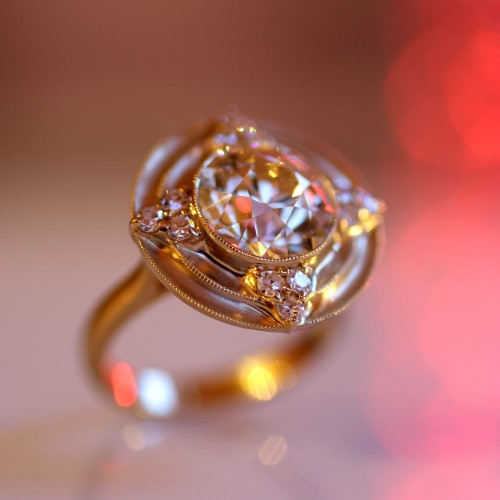 "My Thea Halo (aka #TeamThea) engagement ring is especially meaningful to me, as it was one of the first designs that I produced for the launch of my bridal collection earlier this year. I knew I wanted to wear one of my designs, so I set one of my own old European cut diamonds into Thea, and the result was magic. The diamond is my absolute favorite old European cut that I cherry-picked years ago. Thea remains one of my favorites, because it's not a traditional engagement ring, and because everyone sees something different in the design. Some see a compass, while others see the sun. Thea was actually inspired by the sun and a play on the word "sun." My mother's Korean name is Pok Sun, and her favorite flower is the sunflower. So I always see my mother in this ring.
It's been one year since I started development on my first collection, so one of my own #idazzledesires for this season is to stay the course–using Thea as my compass–and to grow my collection, starting with my wedding bands that just went into production! I wish everyone much health, peace, and happiness this holiday season."
Thank you for sharing your desire this season, Erika! You can find Thea–and all of Erika's other equally captivating designs–on Erika's website here.
What do YOU desire? Share it on Twitter, Instagram or Facebook with the hashtag #idazzledesires and I'll feature it here and on social media…
Share Your Thoughts!