Shhh. I'm going to let you in on a little jewelry secret. You know that incredibly popular designer with the gorgeous gemstone jewelry, Jamie Joseph? Yeah. That one. With the collectors that revere her like a rockstar and have at least one signature ring for each finger? Well. Get ready for this: Jamie Joseph is designing engagement rings and wedding bands now. And they are GOOD.


I can speak from actual experience: I was at the Jamie Joseph bridal engagement launch party at Essenza in Seattle in November. Imagine stacks of rings, all with character—interesting outlines, dimensional metal—in her recognizable aesthetic. In reclaimed 18k gold, platinum and responsibly sourced diamonds, this is serious, grown up jewelry. And a return to her roots in fine art jewelry.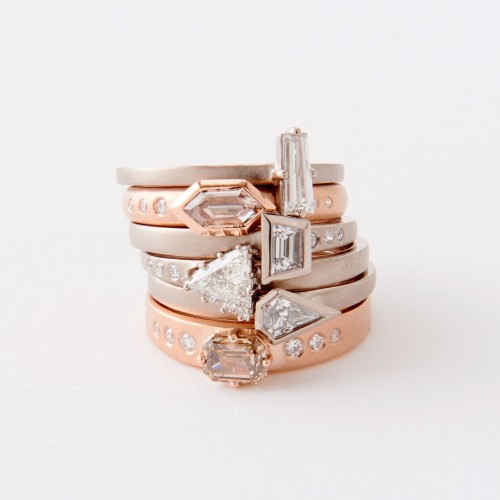 Jamie studied economics and fully intended to pursue that as a career. In her senior year at University of Kansas, she took a jewelry-making class as an elective. While in college, she also fell in love with Jeremy, now her husband. After they graduated, she and Jeremy took a "Destiny Trip" where they got in a car and headed west until it "felt right." They landed in Seattle (lucky for us that live here). After interviewing with companies like Piper Jaffrey and Merrill Lynch, Jamie had an epiphany: "I do not want to do this." Making jewelry in a back bedroom, Jamie honed her craft and her signature style. A brand was born.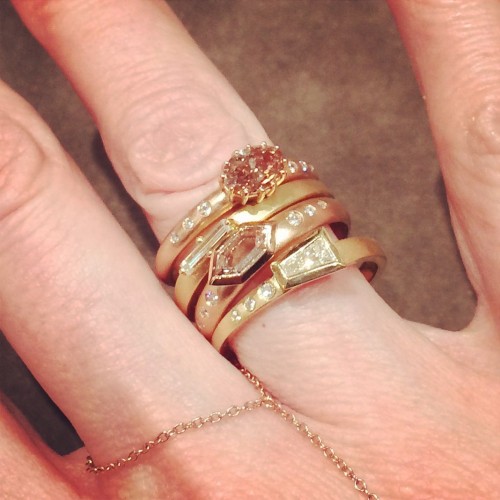 Jamie Joseph Interview
idazzle.com: After designing covetable, colorful rainbows of self-purchase right-hand rings, how does it feel to unveil a collection of engagement and wedding jewelry?
Jamie Joseph: It just made sense. People have been asking me about bridal for a while, and this was a natural transition. The aesthetic just unfolded and it feels great to design something with such emotional significance for the recipient.
How would you describe the overall feel of the collection?
With the clean lines, bezels and irregular cuts it feels a little atomic, very mid-century.
You manage to stay true to your signature style, but infuse something new into it. What are you wearing?
This is my current engagement ring/wedding stack.


Current?
I have, um, 20 engagement rings.
!!! Wait, really?
Yes, I change things up all the time. I think it's great to mix and match. I have designed the collection to flex and change: the rings all stack, so you can add for milestones and occasions and fully express your own style.
The colors of the metal are very approachable: I want to touch it! What are the metals you are using for this collection?
18kt yellow, rose gold, and palladium white gold. And platinum. We have a soft finish on a lot of the rings, almost like it's been softly patinaed already.


Your colored gemstone rings usually combine sterling silver and some 14kt yellow or rose gold. How is to work with higher karat precious metals?
This is really going back to my roots of fine art jewelry I made in my back bedroom years ago. I love returning to high karat gold and platinum. My jewelry has come full circle.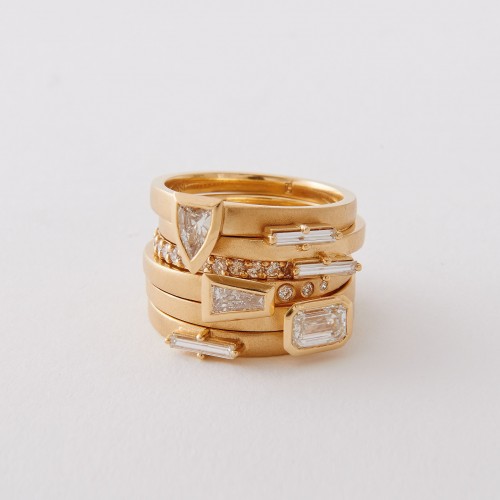 What's next for Jamie Joseph?
Designing the next collection for Couture. Jeremy and I are working on a new technique to give the gemstones a new signature look. Much like the diamond beauty mark you see in my rings.
This is an excerpt of the complete interview. To read the full interview, head over to the Contemporary Jewelry Design Group, where Jamie is a member and I am an Editor.
Jamie's bridal collection is comprehensive and beautifully realized. Go see it in one of the retailers/ateliers who is stocking it, and contact their studio here for more information. Jamie and Jeremy are definitely people I would like to hang out with. I see a studio visit in my future. I'll bring the Leonetti!

Share Your Thoughts!