On a recent Monday, I saw a posting on Facebook by Gichuchu Okeno, a miner, gem dealer and all-around Kenyan Renaissance man about progress at his tsavorite garnet mine in southern Kenya.
Me, making a (relatively idle) Facebook comment: "Wow, I really need to check out your mine."
Okeno: "Ok, I'll pick you up Wednesday and take you there!"
Me: "!!!!"

I guess I should explain that I was already in Tanzania for the 2014
Arusha Gem Show
. The plan for the trip was to leave Seattle on Saturday, November 15th, arriving very late on Sunday the 16th after 30 plus hours of traveling. Roger and Ginger Dery and I planned to spend the day with local Arusha gem dealers on Monday, then attend the Arusha Gem Show from Tuesday the 18th through Thursday the 20th of November. At precisely 9:50 pm on the 20th, I was to get back on a plane leaving Kilimanjaro airport and travel the 30 plus hours back to Seattle, touching down about 15 hours before another flight for a family vacation to Hawaii. Easy-peasy!
So, what was my response when presented with a "let's-leave-the-gem-show-midday-Wednesday-and-get-thrashed-for-16-hours-on-the-most-indescribably-rough-dirt-roads-plus-a-moderate-chance-of-missing-your-flight-Thursday-night-to-see-a-gemstone-mine" option? "Of course," I say as I'm already packing my bag.
So that's how, on Wednesday, after a genteel morning of looking at rough gemstones at the gem show, and hearing GIA's Dr. James Shigley speak to a packed house about the difficulties of identifying colored gemstone simulants and treatments in the market, I ended up in the car with some water, a couple of Kind bars (I NEVER leave for Africa without half of my suitcase stuffed with food), Okeno, Roger and Ginger Dery, and my nose for adventure. To expect Roger to put some sort of rational brakes on the endeavor is like expecting a kid to turn down candy. And Ginger was game, which is why we get along so well.

Okeno, I'm convinced, could seriously pursue a career in Rally driving, if the whole mining/gemstone thing doesn't work out. He was a rockstar and got us where we needed to go, even when none of the rest of us even thought there WAS a road. To say that this was remote is an understatement that only someone who has been there can truly internalize. And his car was still remarkably in one piece at the end of the trip, though I could have sworn we dropped an axle somewhere in the shadow of Mt. Kasigau.
So, I traded relative comfort, on par with a Western sense of that word, for the East African wild. Literally. We didn't plan to leave Tanzania when we made our original plans, so the border crossing to Kenya—unreliable in the best of circumstances—could have been a total catastrophe. We were lucky. Roger noted that it was actually a new record time in border crossings: 23 minutes from border to border. Even including the added time of having our foreheads scanned by a thermometer (no, there is no Ebola there, and yes, they are taking it seriously).

It's hard to fully describe the feeling of traveling at very high speeds on almost-impassable dirt roads in East Africa, with the green-and-red-and-blue flashing by. Exhilarating. Terrifying. Thrilling! I can tell you this: the trip became real for me from the moment we decided to go to the mine. It was exactly what I was meant to do.
It took five plus hours to get from Arusha, Tanzania to Voi, Kenya—a new record. Voi Wildlife Lodge holds a special place in our hearts after our January trip with the Sharing the Rough. Even though it was the off-season and very quiet during this November trip, I could hear the echo of our laughter at the bar–the only wifi you can get at the hotel is there (very convivial).

After a short night, and only a few bug bites, I was up at 5am to pack up completely—I was getting on a plane for home at the end of this very long Thursday. We had breakfast, then set off for Okeno's tsavorite mine. It's located about 2 and-a-half to 3 hours from Voi. On—wait for it—red dirt roads. Unmarked roads. Elephant routes, in fact.
With Okeno's GPS in his head, we somehow arrived at a gate made of branch and bush. Inside the fence is its own community, a hive of activity. Men working, resting, tinkering with the Landrover and a bulldozer, jackhammering, hand digging…even the goats were industriously eating. Why goats, you ask? I think you can figure it out.
Okeno stated proudly that his is the number two mining camp in Kenya. Having been to a few other mines on a previous trip, I can properly bracket his statement: it's positively luxurious, with three stone buildings with metal rooftops that house the miners for sleeping and eating. There are so many challenges to living and working out in the bush: risk of life and limb while working with the equipment, wild animals from the nearby Tsavo game park (no fence around that, by the way). As if that's not enough, the bed frames were metal, to make it harder for snakes (shudder) and scorpions (convulse) to climb up.
Past the cleared area with the buildings, there's a slight crest in the ground. The red dirt turns several shades darker and starts to cleave and open up. Then yawning before us was a crater, hot and dry at the top, wet and slumpy at the bottom. Roger was already down in the hole, keenly tracing the striations in the layer-cake of dirt and stone. In between jackhammer bursts, Okeno pointed out the indicator minerals he and his geologist are following, and the direction future digging is likely to go.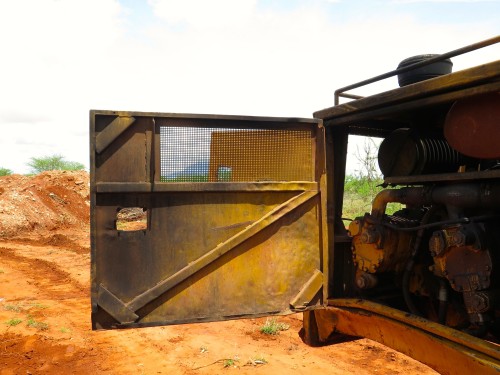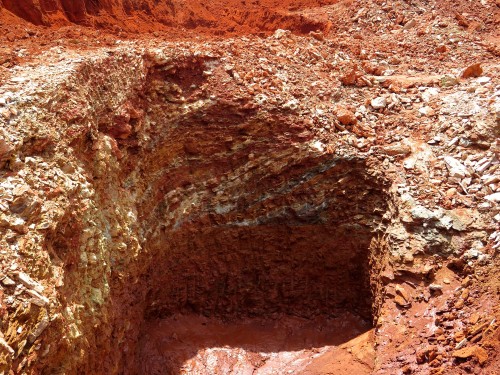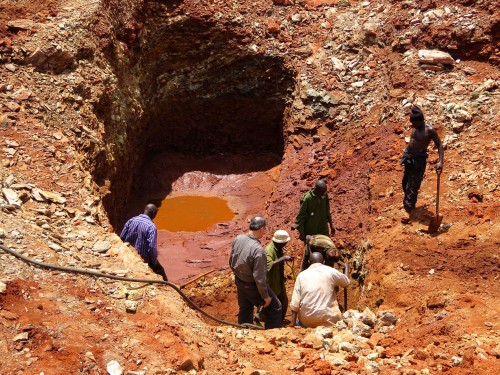 This is a relatively new mine. Mining began in January with blasting the surface to clear away the top-most layer of the most promising area of this property, which is about a half kilometer wide by 2 kilometers long in total size. They have made tremendous progress by local standards, thanks to a more mechanized approach. Standing in that pit, it was pretty inspiring to see what sheer human determination can accomplish in 11 months.

There's a lot more work to be done, and, hopefully, a lot more gorgeous green tsavorite garnets to be had. It takes a certain kind of perseverance—and back-breaking work–to make a mine successful. I don't think you can truly fathom this unless you are in the bottom of the hole, looking past the interminable red soil, up at the blue sky. Sweating. Have I mentioned that it's hot?
We could only spend about an hour and half at the mine site. We had to drive 3 hours back to Voi, then another 5 hours back to the Kilimanjaro airport. Including another border crossing. No records were set with the crossing back into Tanzania, due to a new computer system that kept going down while we were there. If you've ever been to Tanzania, the words "border crossing" "and "new computer system" should strike terror in your heart. Considering that electrical power is still optional in this part of the world, retinal and finger scans were already dicey.
Honestly, I was a little bit sad to get to the airport and prepare to leave. Part of my heart is definitely lodged in East Africa. I find the gemstones intoxicating, the industry endlessly fascinating, and the people inspiring. I'm moved by the heart and grit and grace of the people who live there. Life moves differently there. You can slow down and open your eyes–even as you hurtle along at a hundred kilometers an hour. As my friend Okeno said: "In the US, you live your life in seconds. Here in Africa, we live in days." When I'm in Africa, I open my eyes and learn my lessons with wonder.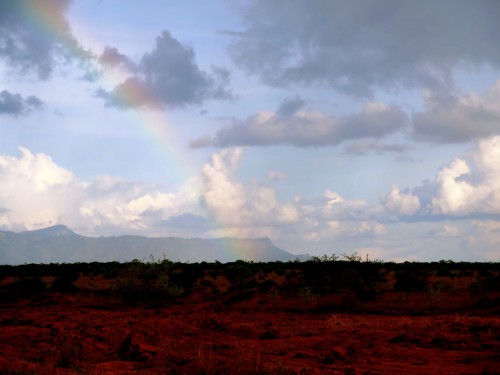 Share Your Thoughts!