"Karibu!"
This word means welcome in Swahili, and welcomed I was throughout my visit to Tanzania. The word feels like a hug when spoken by the generous residents of Arusha.

I traveled to Tanzania for the November 2014
Arusha Gem Fair
, showcasing the minerals of East Central and Southern Africa. Over 50 exhibitors showcased their gems, from the roughest rough to faceted gemstones. I have seen rubies, spinel, tsavorites, spessarites, sapphire in every color, zircon, tourmaline, and tanzanite. And every single gemstone comes from East and Southern Africa, many from Tanzania and Kenya in particular.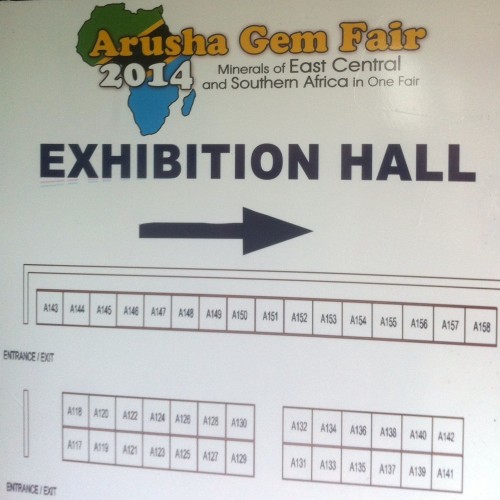 The Tanzanians are proud of their gemstone wealth—as they should be. With this show, they give other African nations a chance to showcase their own gems, and position themselves as the African nation to emulate in the mining and marketing of colored gemstones. Arusha would like to show the world that Africa is on the map when it comes to gems.
The buyers were a diverse group, with Europeans and other nationalities represented. But curiously, there were very few Americans. In fact, the only other people from the US that I encountered were
Robert Weldon
and
Dr. James Shigley
of the
Gemological Institute of America
. Why would US gemstone buyers resist this chance to purchase rough gemstones from about as close to the source as possible in a mineral-rich country? There is value to be had and relationships to be made that can last far beyond the gem show itself.
I definitely understand that this is no
Tucson Gem Show
. There aren't a ton of colored gemstone dealers, and the quality can be spotty–I didn't see a lot of larger, clean material at the actual gem show. And the journey there is not for the faint of heart: it takes at least 25-36 hours to get here from the US. Don't expect a US or European style of trade show, food, or accommodations outside of the venue of the
Mt. Meru
hotel. But to me, that's all part of the experience. It's rich and colorful–literally–and the reward is experiencing an entirely different culture.
Many of you know that this is not my first rodeo, er, trip to East Africa. I came in January as part of the jewelry documentary
Sharing the Rough
(read my Africa series
here
). I fell in love with Tanzania and Kenya, and the people of the gem trade here. I wanted to come back and see for myself a more concentrated view of the gemstone world here.
I just can't shake the idea that gemstones from this part of world need to discovered and revered by collectors everywhere. I am here to raise awareness and embark on new adventures. Stay tuned for more, including an unexpected detour to a tsavorite mine in Kenya…

Share Your Thoughts!