One of the highlights of the Couture Jewelry Show is getting to visit Colette Jewelry and see what is new. Because there is always something very new: one-of-a-kind jewels, new collections, and jewelry worn on interesting parts of the body. But I don't just look forward to the jewelry itself, as inventive and inspiring as it certainly always is. It is Colette herself, and her almost magical aura, that I'm drawn to.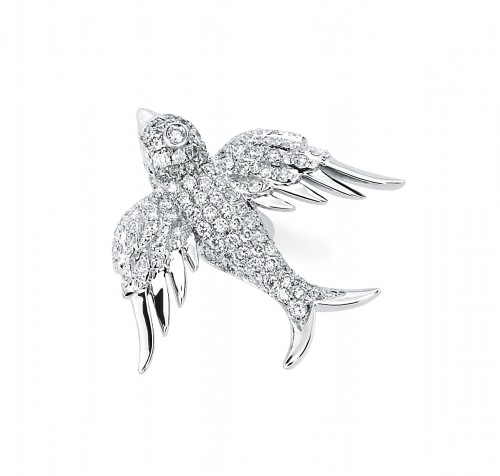 In 2013 at Couture, Colette debuted an unheard of 150 one-of-a-kind jewelry creations, and the inspiration was a visit to—a communion with—Africa. Looking through her new designs and collections for 2014, though, the inspiration this year couldn't be more different. Last year, it was about the external: the landscape, animals, people during her extraordinary trip to Africa. This year, the focus is entirely internal, a beautiful story gradually surfacing from deep within.

An Interview with Colette: Blue Drift
idazzle.com: Where did this start?
Colette Steckel: I was in Istanbul, with my kids, but without my husband. I found myself up at night a lot, with time and space to myself, and just had time to think. I was able to get super inside myself, very internal.
I began to think about what is exciting in my life. I allowed my thoughts to just drift inside me…allowing myself to feel each thing as it bubbled up.
It made me think about why we do not show every emotion externally as we are feeling it. I believe it is because we are taught—at a heartbreakingly early age—that we are not allowed to express certain things. It's not correct to show this emotion. But this suppression is not ok. It is not the way to live.
So how do I symbolize this? The answer came to me: WINGS.


You knew what you wanted as the symbol of your thoughts, so then what? There are lots of wings out there in jewelry design.
I subscribe to the philosophy that whatever you do, do it with passion. So I set out to interpret wings in a fresh new way.
How did you manage to reinterpret them so they don't look like every other bird?
I did not do them in a conventional way: these birds do not exist in nature. They are entirely from my mind, and therefore, they are free.
The details are compelling: in the pieces that incorporate multiple birds, they are all going their own way.
Yes, in the flocks, like the hand ring I designed, each bird has its own agenda and follows its own heart.

These birds have volume and mass. They are comfortable to wear, whether on the ear or hand or neck.

I did not want flat birds. They have dimension, like our thoughts.
I noticed that some pieces in this collection are smaller in scale than I have seen from you before. Was that intentional?
Yes, everything is intentional. My designs are always going to be big, that is how I dream and design. But I don't want to frustrate people. If people are interested in my designs, I want some to be in a scale that anyone can buy from me. This symbolism is important—I want everyone to have access to it!


Is that ultimately what this collection is about? That sometimes people need a reminder to look inside themselves and truly express their emotions?
As humans, our body is our cage. Some souls choose to be free, existing out of the conventional rules of that cage. I was always allowed to drift and experience life the way I wanted. My parents say "You are so yourself, Colette. You are your own way." I don't hurt other people in my pursuits, but I don't fit a mold either. We are all born with wings, if we are allowed to see and experience and to feel.

I need at least one of Colette's Blue Drift birds. Maybe an ear cuff, maybe a pinky ring. I think every woman needs that tangible, physical reminder: that even as the wings of your soul beat frantically against cage of your ribs, you can look at your own piece of Blue Drift, and know that you are free.
You can find Colette's Blue Drift collection, and her other equally captivating collections, at fine ateliers like Ikram, Broken English, and Maxfield. You can see a complete list of stockists here. Find more of Colette's collections, and follow the magic, on her website, Instagram, and Facebook.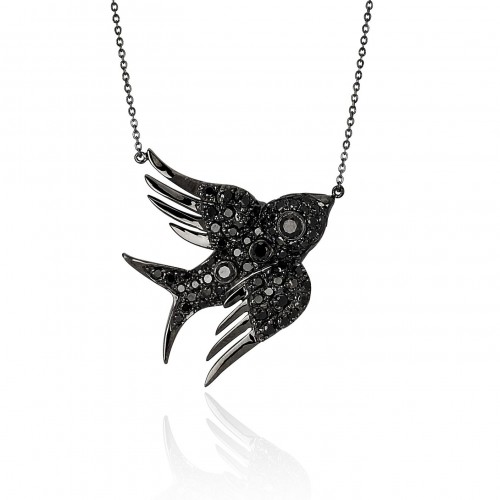 Share Your Thoughts!