Elaborate. Byzantine. Exquisite. I can try and come up with a word that describes Arman Sarkisyan's jewelry creations, but words, for once, seem inadequate. His jewelry surprises with intricate details. In his work, gemstones speak with authority, stating that they are the chosen ones. Talking with Arman himself, he is quiet, thoughtful. He lets the jewelry do the talking.

You could say that creating jewelry is in his blood. Or maybe DNA. He started making jewelry at the age of twelve in his father's studio. Father and son still work together: their benches are side by side today.
The jewelry designed by Arman Sarkisyan is made of 22kt and sterling silver, often darkened to the soft black of patinaed historic jewelry. The contrast of the high karat gold and the dark silver is a signature aesthetic for Arman and defines it as timeless. In his hands, lockets aren't a fusty old genre that belongs to a different generation. Arman's lockets are covetable, collectible, generational–everything that jewelry should aspire to.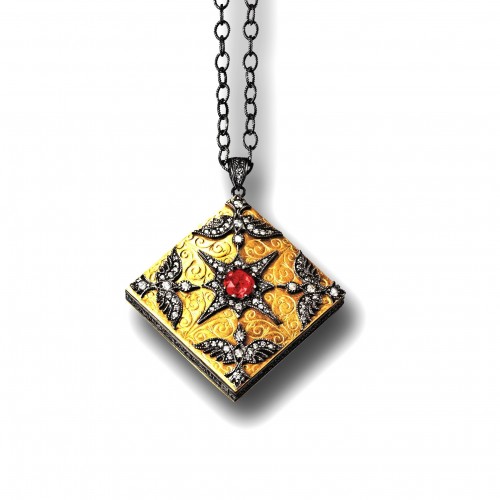 Each jewel creation tells a little story. Sometimes, the tale starts with the gemstone. Other instances, the process begins with an idea or concept. Many of the pieces of jewelry are ONE-OF-A-KIND. There are series, representing an idea that is then executed with different details and gemstones. But every iteration becomes its own expression—the scale, the accents, the feel of the piece changes with the amendment of the primary gem.
The gemstones used in Arman's jewelry are exceptional. I found myself staring into various cabochon gems until my eyes crossed, reading the depths of color. I asked how he gets such a consistently exhilarating quality. Arman has trusted gemstone sources, and will take literally days to spend with the gems in order to buy them. He has to connect with the gems. His care is apparent in every piece.
Cabochon-cut gems figure prominently into his designs. Arman loves the polished, smooth surfaces of cabs with their saturated depth and hue. The Byzantine, Old World aesthetic of these gems seamlessly fuse into his jewelry. His favorite gem? Indicolite and its hue: primal, marine, and incredibly rare.
In one collection, Madonnas (the pious kind, versus the rockstar) are carved into silver and overlaid with peach tourmaline. It's a little secret for the wearer. You get to see her through the imperfections of the gemstone, and it magnifies the carved image for the viewer. In most of Arman's pieces, there are many levels to his work, figuratively and literally.
While his jewelry can be surprising, it probably won't completely shock you that Arman began as an architecture student. There is structure in every piece. What might surprise you, though, is that when he moved from Armenia to Los Angeles, he got into film, both photography and sound production work. All of these skills—a visual surprise or lyrical element–show up somehow in his jewelry art, however subtly.

He and his father do all the carving. Arman says he is most comfortable at the bench. He LOVES to be at the bench. The creative process requires imagination, then problem-solving to turn that inspiration into reality. There is no such thing as "I cannot do this." Perhaps because he learned so young, Arman mastered the more basic elements early in his career. Now he can experiment and push in sophisticated ways (note: he is still very young!). I can only imagine what he might be capable of in a few years!
Some items in his collections are production pieces, but all are hand made, and all are built around gemstones that are inherently unique. I asked if he has a particular muse or source of inspiration. Arman replied that he might explore a theme for a while, like Art Deco-inspired. He will play with that idea, mining it until his mind moves on to something else.

When asked what is next for his jewelry and direction, Arman replied that he is now starting to work in platinum. I asked him if that transition was difficult—it's a very different metal than the 22kt and sterling that he has been working with. He replied "challenge is my inspiration." I think that says it all.
Sometimes, in the course of interviewing someone, I find a kindred spirit. It's such a pleasure to meet an artist working in a modern aesthetic with the most painstaking old world craftsmanship. You can find Arman Sarkisyan's jewelry at a few select ateliers around the world here. Follow Arman on Instagram and Facebook for a glimpse into his inspiration and studio. And if you come up with a word that succinctly describes his work, let me know…

Share Your Thoughts!