Five weeks in Paris. It sounds luxurious, to say it out loud, or write it down. Our family is in Paris for five weeks, and in France for seven weeks total: mostly for work, but partly for pleasure.

We're two weeks into our trip, and feeling just a little like we live here. We have a cozy, quirky apartment in the Marais, a neighborhood that feels like SoHo about fifteen years ago, before the national fashion brands took over (SoHo, do we really need a Michael Kors on practically every corner?). It's fun to wander the 3rd arrondissement as our neighborhood, exploring clothing boutiques–many of them design and make the clothing right in Paris–and the petite cafes. We have our favorite boucher, flower shop, boulangerie, marché .
We've done some sightseeing: the Louvre, Musee Rodin, Musee D'Orsay, Notre Dame, and Sacre Coeur (all that and more in the first week alone). Versailles, where I could feel my neck tingle, imagining the seeds of revolution being sown in all that gilt and lavishness. Then to Giverny, to see Monet's ample inspiration. The beauty of being here for five weeks is that we can also just…wander. Live. Hang out in Parisian parks that are little gems. Stare at the architecture. We've been to the Louvre three times in two weeks: luxurious little bites out of a giant, ornate apple.
I would love to live like Hemingway or Marguerite Duras, hanging out in cafes, scribbling in my moleskine, changing from espresso to wine at some magical heure in the afternoon (15:00? is that too early?). Our whole family is here, though, and my almost-ten-year-old and seven-year-old daughters probably wouldn't appreciate that pace. Or the smoking. So I'm modifying a little, but still getting in as much of that experience as I can.
It's not all perfect and picturesque in this sometimes-impenetrable city. You must leap elegantly over dog poop on the sidewalks; watch out for rogue scooters on sidewalks and cobbled alleys; survive 90+ degrees of muggy heat in the Metro tunnels that perfectly capture and retain certain…aromas.
And then there's the language. Since the only French I knew consisted of haute cuisine (en croute!) and fine art (objets trouve!) terms, I took about eight weeks or so of French language lessons. I was feeling pretty confident when I left Seattle, conjugating verbs ending in -er with relative ease, but actually SPEAKING it here–out loud–is pretty intimidating. So far, the extent of my French involves me repeatedly babbling the one word or phrase I somehow caught in the flurry of words. I am trying to not look hopelessly, cluelessly Americaine, so I am determined to master the pleasantries, at least. Fortunately, or rather unfortunately, most people here speak more English than I speak French. I am appropriately humbled when they correct my pronunciation ("c'est Lyon–Leeee-OOOwn").
Rest assured, I can combine idazzle jewelry business with pleasure. I met with a delightful group of international writers, bloggers, and French designers last Sunday, gathered for Paris Haute Couture week. I spoke to international blogger/writer
Katerina Perez
, whose photographs I have admired on
Instagram
;
Frédéric Mané
, creative director of
Mathon Paris Joaillerie
; Marie Oberlin of
Martha Maec
h; jewellery book author
Juliet de La Rochefoucauld
;
Pamela Hastry
of
Morphee Joaillerie Paris
; the entertaining
Jean Boggio
; and
Sophie Mizrahi-Rubel
, who is reviving the venerable high jewelry of
John Rubel
(she was with her lovely sister). I'll be meeting with a few Parisian jewelry designers while I'm here, so you're bound to see some gorgeous images of French high jewelry on my Instagram.
So, follow my adventures on
Twitter
and
Instagram
, and I'll be back to writing about jewelry very soon…
Au revoir, mes amis!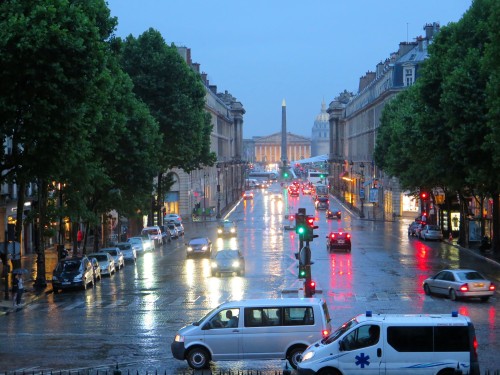 Share Your Thoughts!