Leaving the JCK Las Vegas and Couture jewelry shows, I was exhausted. My toes bled. I think I collectively slept about 11 hours in 6 days. But when it came time to say goodbye to friends, I was wishing for a later flight.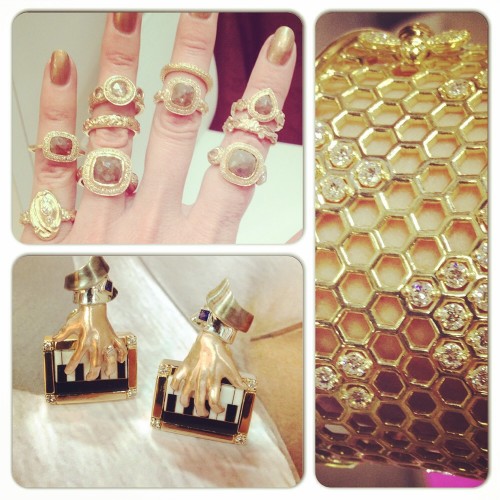 The jewelry, of course, defies description and sustains me, as you can see in my jewelry wrap-up post here. But it is the PEOPLE that are the real gems, that energize and propel me throughout insane days (and nights) that start at 6:30 am and go til about 3am (yes, you read that right). Once the $10 latte and green smoothie kick in around 9am, I'm ready to conquer each day, looking forward to the cast of characters (and I mean characters!) I get to see.

The anticipation starts the day that I leave the shows, and then builds over the next year. For one magical week, ALL of the people I love in this industry are in one surreal city. A completely manufactured city where there are waterfalls in the desert and a giant frog serenades you.
CJDG Salon 137
I usually head to Couture first, and specifically Salon 137, otherwise known as #Studio54. The Contemporary Jewelry Design Group's inhabitants of Salon 137 feel like family. Family with really great jewelry. Jane Bohan brought caged pearls in gold metal work that was so good it made me want to cry. Sara of Amali had her mesmerizing wrapped collections, as tactile as fabric, while Rebecca Overmann had her stacks of gold rings that are both modern and completely organic. Malak of Zaiken Jewelry wowed me with her Throwing Stones collection, and her capsule collection for Gemfields. Jack and Elizabeth Gaultieri of Zaffiro are making some of the most intricate and technically wonderful jewelry with granulation and an old-world aesthetic. And Marylouise Lugosch does all of the heavy lifting at CJDG.
Vicente Agor
, oh what can I say about Vicente? The Prez, as he has been known around CJDG for the past two years, is the most warm and wonderful human being I know. I truly love him. The jewelry he designs with Michael Pfeffer (and don't forget their muse,
Patu
) reflects a voluptuous sensibility: small sculptures of curvilinear forms.
JCK Las Vegas Encounters
I went to JCK at the Mandalay Bay on Friday, and promptly ran into two of my favorite people at the Platinum Guild press event, Amanda Gizzi and Rebecca Moskal. And no jewelry trip is complete without a Robyn Hawk sighting. Hashtag #awesomestart. I toured the Design Center, Prestige, Luxury and Elite Enclave. That's like…150 miles of walking, and it was only noon (I mentioned my toes already, right?).
#VegasGems Part Deux
On Friday night, the #VegasGems convened again at Parasol Down. The original cast of #VegasGems consists of Erika Winters, Wendy Brandes, Shamila Jiwa, Barbara Palumbo, Jessica Cohen, Cheryl Kremkow, Katrina Kelly, and Brittany Siminitz. This group of women, strong types with a lot on their mind, have been collectively supportive of each other throughout the past year with each new venture or direction that we've individually pursued. We are not doyennes or divas. We all work hard and believe in words, and passion, and beauty. Joining us this year were Cindy Edelstein, Erica Courtney, Andrea Hill, and Peggy Jo Donahue. It felt like validation to have these women join us, and it made me so happy to have them at the table.

Btw, WWMW (What Would Monica Wear?) to Vegas Jewelry Week 2014? Evidently, slightly insane prints were a theme for me this year: purple python on Friday in DVF, a Rorschach test by Peter Pilotto on Saturday, Sunday warranted garden-on-acid from Alexander McQueen, with some Valentino and TopShop mermaid sequins thrown in for sass.
Jewelry Blogger Summit?
I ran into fellow jewelry blogger Danielle of Gem Gossip, where we admired each other's rings (#showmeyourrings!), Natalie Bos of Jewels du Jour, and Beth Bernstein. I was fortunate to see Amy Roseveare and meet Yvonne from The Gem Standard. #JewelryBloggerSummit next year, for sure (I'll start working on that)!

Jewelry Journalists
Vicky Gomelsky and I had a nice chat at JCK Las Vegas. I had a lovely lunch with journalists Lorraine DePasque and Eileen McClelland of Instore/InDesign Magazine. And it was my great pleasure to meet the entourage of Maria Doulton, Claire Roberts, and Rachel Garrahan of The Jewellery Editor, attending their very first Couture event!! Major highlight: meeting Marion Fasel, superstar jewelry writer, historian and Editor, donning her Daft Punk helmet for her just-won Vespa!
Of course, there were plenty of appointments and planned meetings with lots of people, but I loved the serendipitous meeting of people I know well on Social Media but hadn't yet met in person. Like Beth Anne Bonanno at Ray Griffiths' Couture salon. And Sia Maravelias aka The Jewelry Maven at Parasol Up with Megan Aoki aka Indigo Pony. A special shout-out to Liz Kantner at Todd Reed, who introduced me to a number of these people. I met Liz for the first time at this show, and I'm now calling her The Great Connector.

WJA Rocks the Beach
The Women's Jewelry Association hosted a cabana at the JCK Las Vegas Rocks the Beach event, and it was definitely the place to be on Sunday night! There were keg stands and body shots…just kidding! It was a ton of fun, and I got to see Andrea Hansen, Diane Warga-Arias, Bernadette Mack, Jen Cullen Williams, and countless others there. And let's not forget the infamous Eyecandy bar afterwards, where Dallas Selsey, Craig Danforth, Raymond Hak, Adam Graham plus various #VegasGems relocated to the dance floor.

Sharing the Rough Documentary Film Wraps
This year, Vegas was especially momentous, as there was an event for the Sharing the Rough jewelry documentary team. As many of you know, I went to East Africa in January for filming of this feature, and met some incredible fellow gem hunters and film crew (read all about it here). It turns out that you really bond with people when you've peed in the African bush with them. We had a fancy soiree to do the final filming: the reveal of the one-of-a-kind gemstone jewelry designed by industry icon Mark Schneider. It was a very special reunion for Sharing the Rough and the final chapter of the filming. But for me, in some ways, it's just the beginning…

I met countless people throughout the week, and very, very stupidly did not get pictures with a lot of them. I say every year that I will do better next time. Honestly, I think I get just a little carried away with meeting people I have followed on social media or look up to in the industry and forget to get a record. That's ok: the real-life personal connections are what sustain me until next time. That is where my energy comes from. So until next time, Viva Las Vegas, and my jewelry peeps, I'm dreaming of you…
Share Your Thoughts!