It's been quite a year for idazzle.com. In November 2013, I hosted a jewelry trunk show at my new studio space in Seattle, WA.

This space represents a bit of a dream come true for me. After several years of working more with words and code and images, I really felt compelled to play with the sparkle again. This space gives me a connection to actual jewelry in a way that makes me very happy.
To kick things off, I decided to have a big fat party. Four components, all equally important: friends, food, sparkling jewels, and wine. Undaunted by horizontal rain and traffic (this is Seattle, after all), a lot of very special people showed up to celebrate with me.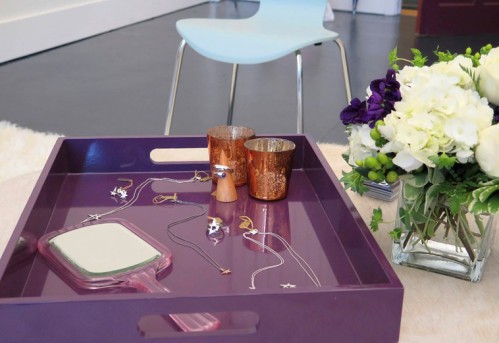 I felt very fortunate and feted as people arrived to eat beautiful, delicious food from
Boat Street Cafe
, drink fantastic wine and ogle jewels. There was plenty of jewelry to look at, with each designer complementing the others.
Delphine Leymarie's
collection is mostly about precious metals in sculptural, very current design. The collection from
Jacquie Aiche
represented body-conscious designs with a SoCal vibe. And Shamila Jiwa is the gemstone savant with jewelry showcasing the most coveted colors you can imagine.
I envisioned the space as a way to support and showcase emerging jewelry designers that Seattle–and everyone–should be introduced to. I think the night was a resounding success. Friends came; they saw; they were excited (and some left with jewelry)!
I can't wait for the next celebration of jewelry design!
*I am representing a collection of Delphine Leymarie and Jacquie Aiche jewelry going forward. Contact me here or at monica@idazzle.com if you are interested in a specific piece or have more questions.

Share Your Thoughts!