I almost made it to Fashion Week in NYC this week. Ultimately it was too hard to pull off, and I am both sad and relieved. I'm lamenting missing the energy and excitement of the week, but it is also a total hot mess, as this post from Amanda Mull of Purseblog eloquently itemizes here.
Here are the events I'm especially missing on Fashion's Night Out, Thursday, September 6th that involve gorgeous jewels. If you are in New York City this week, check out the following events: you'll get to play with some amazing jewelry while rocking your 5 inch heels.
Fashion At Your Fingertips at Greenwich Jewelers
If you're feeling the need for some pampering and jewel-spotting, head to Greenwich Jewelers downtown from 6-8:30 pm. They are offering free manicures from Sally Hansen technicians, plus sweets and bubbly, and a fabulous swag bag while supplies last. The best part is that after your manicure you can put a ring on it with a special collection of rings from Jamie Joseph, GURHAN, Kara Ross, Azaara and other designers. Click here for more information, or contact Greenwich Jewelers at 212-964-7592.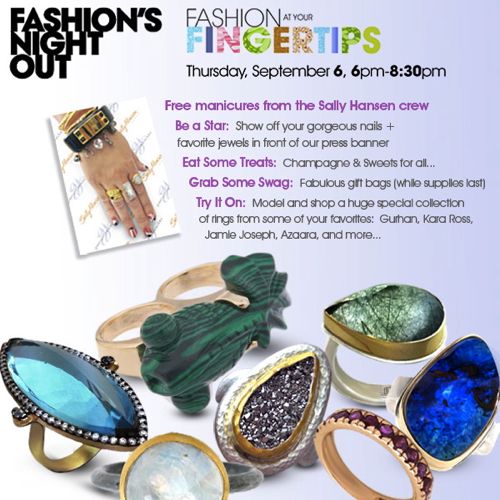 Take Flight with Fred Leighton
I love it when people find interesting ways to wear jewelry, so this event would be high on my list. Fred Leighton on Madison Avenue is showing a special collection of inspired jewelry for the hair from 6 to 9pm. This promises to be a remarkable event. You need to RSVP, so to contact Fred Leighton click here.
Party In The Pawn at Beauty & Essex
I went to hot-spot Beauty & Essex the last time I was in NYC and had an amazing time. Beauty & Essex sort of defies explanation: is it dinner? Is it a night club? What about the pawn shop you walk through? On Thursday, September 6th, curator Lauren Kaminsky will be in said pawn shop with lots of embellished jewelry pieces to play with. She's joined by stylist David Lerner, and together they will show some creative accessorizing while you sip champagne. Be sure to mention "Fashion's Night Out" while making reservations at Beauty & Essex: there's a free dessert and cocktail in it for you, as well as gift cards with purchases over $250. Promises to be entertaining!
QVC Live from Meatpacking District
From 9pm to Midnight on September 6th, QVC is doing a special broadcast from 14th Street and 9th Avenue, featuring giveaways and special designer and celebrity appearances. Go see Jennifer Hudson in her QVC debut, plus Isaac Mizrahi, and Nicole Richie as they introduce Fall fashion offerings, including new pieces from Kenneth Jay Lane. The best part is that if you can't make it to the live presentation, you can tune in wearing pajamas and slippers!
So, what will it be? FNO for you, or just a typical Thursday night? Comment below if you have events to mention in your area that people should know about!
Share Your Thoughts!